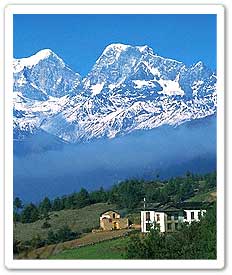 Location :
Named after the famous Itafort, Arunachal Pradesh is the largest state in north-eastern region of India. It shares the long international border with china to the north and north-east, Bhutan to the west and Myanmar to the east.
Climate condition :
Situated in nthe eastern
Himalayan
province, the climate condition of Arunachal Pradesh is governed by the Himalayan system. The climate here is quite different from all other regions of the country. Climate here is warmer than regions. In the winters, temperature ranges between 15º C to 21º C, while in monsoon, it is between 22º C - 30º C. Between June to August, temperature soars to 40º C - 42º C.
Best time to visit :
Throughout the year. October - February is the best time to enjoy adventurous sports like Trekking and Climbing.
Thing to do
Arunachal Pradesh, the land of rising sun, is one among the the most beautiful states of north-east India. Exploring its Himalayan hills full of variety of exquisite flora and fauna is a feast for nature lovers. Splendid game viewing in four of its wildlife sanctuaries, sightseeing hundreds of orchid species in orchid sanctuary, enjoying climbing and
trekking
in plenty of Himalayan hills are merely some among the numerous
Eco activities
that keep tourists engaged while touring Arunachal Pradesh..
Places of Interests
Tezpur- Bhalukpong - Bomdila -Tawang :
Orchid sanctuary, Buddhist gompa, Tawang Monestary, several waterfalls.
Tinsukia - Tezu- Parasuramkund :
Bhishmaknagar, Parsuramkund, Mehao lake, Salley lake, Mayadia.
Margherita- Miao- Namdapha :
Namdhapa National Park, Miao Mini Zoo, Tibetan camp.
Itanagar- Ziro - Daporijo - Along - Pashighat :
Itafort, Gekar Sinyi, Talley Valley, Menga Cave, D'Ering Wildlife Sanctuary, Mouling National Park
Pasighat-Jengging-Yingkiong :
Dr. Daying Ering Wildlife Sanctuary, Mouling National Park, Kekar Monying and Komsing.
Tezpur - Seijosa(Pakhui) - Bhalukpong - Tipi :
Pakhui Wildlife Sanctuary, Seijosa, Bhalukpong, Orchidarium at Tipi.
Eco attraction/Eco excursion
The Himalayan hills, and Four national parks and seven wildlife parks of Arunachal Pradesh are origin of evergreen forests, hills, rivers and many streams which are abode to many sightseeing natural places becoming popular tourist destination.
The game viewing in many of its parks and sanctuaries let travellers encounter rare animals like Mishmi, Takin, Hoolock Gibbon, Musk Deer, Bharal, Hisbid Hare, Flying Squirrel and more than 500 species of birds. The Himalayan hills surrounding the state is origin of more than 500 species of orchids.
For adventure travellers, there are heaps to cherish. The hilly range around Tawang Chu is said to be trekker's paradise. There are plenty other trek routes like Bomdila- Daimara-via-Ramlingam and Chakku, Bomdila- Seppa and Along- Mechuka, which has great opportunity for trekkers to satiate their lust for adventure. Rivers like Kaben, Subangsiri, Siang and Dibang invite water adventure lovers to try hand at water rafting.
Getting its description in the world famous epic, Mahabharata, the culture and tradition of Arunachal Pradesh dates back to thousands years back, which tourists can witness even now preserved by tribals of Arunachal Pradesh. The rich tradition has made various artistic craftsmanship pass from one generation to following one. Beautiful masks, cane and bamboo, wooden carving are some of the livid example of craftsmanship of inhabitants of Arunachal, which has got wide recognition.
Reaching there
By Air :
Tejpur (225 km) is the nearest airport from Arunachal Pradesh. Tejpur has flights from Kolkata international airport (west Bengal), which is well connected to all major air locations in india and abroad. Even Itanagar has regular helicopter service with Guwahati on every Monday, Tuesday, Wednesday and Sunday. Now helicopter service has also been started withing the state for travellers and tourist convenience.
By Rail :
the nearest railhead is harmuty, which is merely 33 km far from the capital, itanagar. But, Lakhimpur in Assam (60 km) is most convenient as it has good rail link with major destination like Guwahati.
By Road :
Itanagar is well connected by road to Guwahati (429 km away) through national highway 52. Direct buses are available from Guwahati to Itanagar.
Accommodation
Donyi Polo Ashok C Sector, Itanagar, Arunachal Pradesh, 791 111, Ph: 91-360-2212626,630-31
Arun Subansiri Zero point, Tinali, Itanagar, Ph: 91-360-233258, 222677, 222806
Hotel Arunachal Naharlagun, Ph: 91-360-2244960/22445279
Hotel Shipyang Pong Bomdila, Ph: 91-3782-222286
Circuit House (PWD) Tawang, Ph: 91-3794-222221,222222
Important Tourist Information Centre
Directorate of Tourism Itanagar, Arunachal Pradesh (India) Phone : +91-360-2214745
Arunachal Pradesh Information Centre Block CE-109, Sector-I, Salt Lake, Kolkata-700 064 Ph: 91-33-2321-3627
Resident Commissioner, Government of Arunachal Pradesh, Kautala Marg, Chanakyapuri, New Delhi Tel : 91-11-3017909