Location :
Gateway to the old Chamba hill state, Dalhousie lies in Chamba district of Himachal Pradesh (Northern state of India).
Climate condition :
Dalhousie has pleasant climate as in summers temperature soars to 26º C, and in winters the temperature varies between 10º C to 1º C. Snowfalls usually occurs between December and February in Dalhousie.
Best time to visit :
Mid May to Mid October.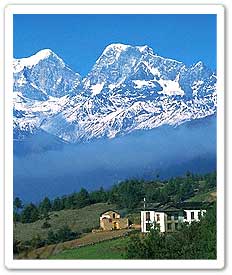 Things to do
Far from the maddening crowd, this small town of Himachal Pradesh is popular among honeymooners. The sky touching pine and Deodar trees, extremely pleasant weather and extreme peacefulness of the surroundings fetch couples an ideal opportunity to enjoy their love ride together.
Besides, for nature lovers and adventure enthusiasts, there are many activities to indulge into like trekking, mountain climbing, nature walk into
tea garden
and blooming orchard.
Places of Interests
Kalatop:
At an altitude of 8,000 meter, Kalatop is best place to be hankered after by nature lovers. The three days
trekking
walk from Dalhousie to Kalatop is full of forest exploration as one has to pass through Nakorota hills, and Pine and Deodar lined forest.
Panchpula:
The stream of Panchpula is the main source of water for Dalhousie. This naturally beautiful spot is quite scenic inviting nature lovers in plenty. Several of challanging treks start from Panchpula Streams. While on way to Panchpula, Seven Springs Of Satdara is a pleasant place to linger.
Pangi valley:
Located between Pir Panjal and Great Himalayan Zanskar Ranges, Pangi Valley is inhabited by Pangwal tribes. Totally cut off from the rest of the world, reaching to Pangi Valley is an arduous task, as it is accssible through several passes. Even for avid trekkers, Pangi Valley pose a tough challenge.
Palace Trail:
This jeep-able trek passes through Karelu Khad and Chail Kothi, and leads to Chamba. The trail enables one having very pleasant walk as it offers a very panoramic view of Bakrota Hills.
Norwood Paramdham:
Surrounded by the thick forest of Deodar, Norwood Paramdham is located in the east of Bakrota hills. The place was meditation place of Yogi Swami Satyanand, who came here in search of truth and God in 1920s. Twice in a year, satsang is held attended by thousands of people from all over the country.
Kynance:
This historical place gets its significance from the fact that Subhash Chandra Bose, one of the famous Indian freedom fighter, lived here for total 7 months.
Subhash Baoli:
It was the place where Subhash Chandra Bose spent most of the time of his day along with his party-men.
Churches of Dalhousie:
A visit to churches like St. John's Church, St. Andrew Church, St. Patric Church, and St. Francis Church, built around hundred year ago, is a mangnificance peep into the history.
Dakshina Murthi:
The popular Yoga institution is worth having a walk for people in search of peaceness, and in want of learing some magical Yoga lessons
Eco attraction/Eco excursion
This small town of Himachal Pradesh is embedded with plenty of sightseeing destination for people in want of enjoying their vacation in the tender lap of nature. Dalhousie, in fact, is dream destination for honeymooners. The comfortable weather, exquisite natural surrounding, and many of popular sightseeing places make together Dalhousie a desired place to hanker after and make the vacation memorable one.
Naturally beautiful location of Panchpula is first on card of visitors coming to Dalhousie. The stream of this natural spring is said to be having some medicinal properties. Enjoying nature walk and excursion close to numerous of streams and springs (like Satdhara springs) make tourist get fascinated with its beauty. One can enjoy even trekking at Panchpula as many of the trekking terrain start from here.
Trekking in Pangi Hills (18,000-20,000 ft) is thoroughly arduous, and invite only serious trekkers to cope with the uphill task. Palace trail, on the other hand, is motorable trek letting tourist enjoy a very pleasant walk while seeing the grand natural beauty of Bakrota Hills.
Kalatop and Khajjiar are some other destination which have bcome popular among adventure lovers due to its amazing trekking trail. The three days walk from Dalhousie to Kalatop, Khajjiar and back to Dalhousie make one encounter the wonderful setting of nature. Walking to Kalatop, on 8,000 feet of altitude, one passes through the dense forest and hills.
Besides plenty of churches like St. Andrew's Church, St. Patrick Church, St. John's Church and St. Francis Church, and temple like Laxmi Narayan Temple invite tourist to kill their leisure pleasantly.
Reaching there
By Air :
Amritsar and Jammu are the nearest airport of Dalhousie, both lying around 190 km from Dalhousie. Both Amritsar and Jammu are well connected to major airports like Delhi and Mumbai.
By Rail :
Pathankot is the nearest railhead (80 km) lying on the main rail line, which has rail link with all major rail routes of the country.
By Road :
Bus service is available from all nearby popular and major places like Delhi (563 km), Chandigarh (352 km), Amritsar (185 km), Manali (402 km) and Pathankot (80 km).
Accommodation
Hotel grand view Club road, Dalhousie (Himachal Pradesh)
Dalhousie heights Lovers lane, near bus stop, Dalhousie (Himachal Pradesh)
Shopping opportunity
Dalhousie, famous for Shawls, chappal, woolen and dolls, provides one good opportunity of buying these amenities. Tibetan handicraft centre is the most authentic place to buy woolens, shawls, bags and purses.
Important tourist information centre
Tourist information centre Near Bus Stand, Dalhousie-176304
Himachal Pradesh Tourism Development Corp. Ltd. 36 , Janpath , Chanderlok Building, New Delhi 110 001, India Phone : +(91)-(11)-332 5320 Fax : +(91)-(11)-373 1072