Location :
Located in the north-east of India, the state of Mizoram borders with Myanmar to the east, and Bangladesh to the west.
Climate condition :
Normally Mizoram is cool in summer, and not very cold in winter. During summer, temperature varies between 20º C - 30º C, and in winters, it is between 11º C to 21º C. Somewhat Mizoram has pleasant weather.
Best time to visit :
September to May.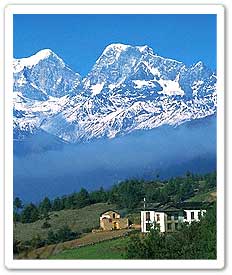 Thing to do
The small state of Mizoram is full of
Eco tourism
opportunity as its thickly forested hills are house to many species of orchids and wild inhabitants. Exploring the rich
flora
and
fauna
found in many of its forests and hilly terrain are the best suited to nature lovers who love being in complete touch with nature.
Places of Interests
Champai :
192 km from the Aizawl (the capital of Mizoram), Champai lie close to the Myanmar border. Though this is a busy commercial town of Mizoram, but natural beauty is still intact, and its famous ancient relics is also premier tourist's attraction.
Dampa :
This is a popular wildlife sanctuary (133 km) of the state lying at the junction of Mizoram, Tripura and Bangladesh. Wildlife enthusiasts have finer opportunity to spot wild inhabitants of the sanctuary like tigers, elephants, bison, bears, and many hundreds of avian species.
Phawngpui :
This preserved area with its many of rare exotic plants and medicinal herbs are open only for trekkers. Called as Blue Mountain, Phawngpui (300 km from Aizawl) must be on top of the card of tourist willing to peep into wider amazement of trekking and natural beauty.
Eco attraction/Eco excursion
Though Mizoram has plenty of places of interest for nature lovers, but it has not been promoted appropriately. This is the one reason, the state doesn't receive huge tourist's footfalls like states like
Sikkim
receive. Lesser footfalls may be one reason for nature travellers who wish to enjoy their Eco vacation minus commotion and far from the heavy crowd.
Many of the tourist's hot spot like Aizawl, Tamdil Lake, Vantawng Water Falls, Champai, Lunglei, and bung and Paikhai are well suited to tourists who are willing to enjoy nature sightseeing as well as rich culture and tradition of Mizo state. Eco places like Tamdil lake and Vantawng water falls are ideal Eco places where one can enjoy having picnic with their family and friends.
For adventure lovers, Phawngpui and Dampa wildlife sanctuary are the best spot where one can relish trekking and wildlife viewing respectively. Phawngpui, a preserved area having many of rare plants and herbs in its lap, is open only for trekkers. Dampa wildlife sanctuary, being home to wild animals like tigers, elephants, bison and bears, are favourable place to douse one's wildlife fascination.
Reaching there
By Air :
Indian Airlines has flights for Aizawl, the capital of Mizoram, from Kolkata and Imphal. Kolkata has domestic and international airport connected to all over. Tourists from abroad need to reach Kolkata first in order to catch flight for Aizawl.
By Rail :
The nearest railhead from Aizawl is Silchar (Assam), 180 km, which is well connected to Guwahati via rail link. Guwahati has very good rail link with major destinations like Delhi through super fast express trains like Rajdhani express.
By Road :
National Highway-54 connects Mizoram to Silchar through which Mizoram is linked to other region of the country. From Silchar, Aizawl is 6-8 hours drive. Aizawl is eve connected to north-eastern main cities like Guwahati (506 km) and Shillong (460 km) by road.
Accommodation
Hotel Ritz Bara Bazar, Mizoram, Telephone: 91-389-2323358, 2310409
Hotel Chief Zarkawt, Mizoram, Telephone: -91-389-2346418, 2341097
Hotel Ahimsa Zarkawt, Mizoram, Telephone: 91-389-2341133
Hotel Royale Bara Bazar, Mizoram, Telephone: 91-389-2311576, 2311577
Important Tourist Information Centre
Director, Department Of Tourism Govt. Of Mizoram, Chandmari Mizoram, Ph: 91-389-2312473-7
Mizoram Information Centre 24, Old Ballygaunge Road, Mizoram House Calcutta-700 019. Phone: 91-33-2247-7034
Resident Commissioner Government of Mizoram Mizoram House, Circular Road, Chanakya puri, New Delhi-21 Tel: 91-11-23016408/23017017, 23010548, 23016101, 26168339, Fax : (011) 23012331
Liaison Officer Mizoram House Sonai Road Silchar - 788 005, Ph : 91-3842-220142
Liaison Officer Mizoram House Christian Basti, G.S. Road Guwahati - 781 005 Ph : 91-361-2541445/2564626 Fax : 91-361-25624