Origin of River Godavari :
The Godavari river rises near the Trimbak in the district of Nasik in the Indian state of Maharashtra. The river is approximately 1,465 km long and has a total catchment area of 31 mha. It flows in the eastward direction through the states of Maharashtra and joins the Bay of Bengal in Andhra Pradesh. The principal tributaries of the River Godavari are Penganga, Pranahita, Sabari, Indravati, Manjeera and Manair. It is the second largest river in India.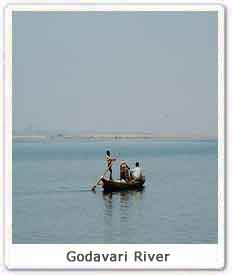 Religious Significance :
Apart from Ganga and Yamuna, Godavari also holds the special religious importance in India. Godavari is one of the sacred river in India. According to the puranas River Ganga should only be visited after the visit to the Godavari. There are several pilgrimage places on the banks of the river. Some of them include Trimbakeshwar – the ancient temple of Lord Shiva, Nanded Takht Sri Hazur Sahib, one of the sacred place among the Sikhs, Bhadrachalam – temple of Lord Rama and many more.
Godavari is sometimes also referred to as the 'Ganga of the South'. After every twelve years, a major bathing festival called as Pushkaram is held on the banks of the Godavari river. Some of the prominent personalities who took bath in its holy water include Baladeva and Chaitanya Mahaprabhu.
Pollution :
River Godavari is under the serious threat as a result of the growing Urbanization and industrialization. The river has been dying at an alarming rate due to the pollution created by the factories. The main reason behind the pollution of Godavari river is the tiny Nakavaggu rivulet, which joins the Manjira, tributary of the Godavari. Nakavaggu rivulet supports no life at all. Rivulet is surrounded by the highly productive agricultural land, which is polluted by the large number of industries lying near the twin cities of Secunderabad and Hyderabad. However the 72 industries in the Patancheru Industrial area dumping the chemicals and waste into the water are most responsible for the pollution of the river. It has also given rise to some of the major diseases such as lung cancer, leukemia, and liver cancer. The government of India has been continuously taking steps to save the river water from further pollution.