At present fuel cell vehicles are the most advanced vehicles in the automotive world. They are the hope that in the future we will see vehicles powered by the eco friendly efficient energy sources. They are safe, comfortable and more efficient than other conventional vehicles. Fuel cell vehicles are the aesthetically appreciating machines, which will definitely bring revolution in the mass market. They are still in their development stage and the researchers from the countries like Australia, Canada, and Japan are conducting intensive research to solve the technical problems concerned with fuel cell technology. They are expected to reach the mass markets by 2011. Vehicles are the major cause of pollution on our planet and fuel cell vehicles are the important strategy in fighting the cause of the global warming.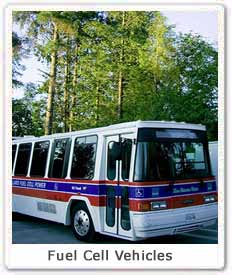 Fuel Cell Vehicles uses hydrogen that combines with oxygen to produce energy and is converted into electricity, which is used to power the car. The electricity than empowers the electric motor. Instead of using hydrogen, fuel cell vehicles can also be run on fossil fuels and bio fuels. Fuel cell vehicles are capturing the attention of the environmentalist. These vehicles run on renewable fuels that reduces emissions by 60 -70 percent. Following benefits can be derived from the fuel cell vehicles :
Environment Benefits :
The biggest attraction of the fuel cell vehicles is that they are pollution free. There are no polluting emissions from the fuel cell, the only byproducts are heat and water. Instead of using petrol or gas it uses hydrogen. It promises the cleaner air as compared to the other conventional vehicles. If it is launched on the wide scale it is prove advantageous to the smog choked regions of the country.
Saving oil :
Using the fuel cell vehicles reduces our dependency on fuel. Fuel cell vehicles are the environmentally sustainable transport that are based on the renewable energy sources. It will prevent the leakage of gasoline tank which results in the contamination of the ground water.
Saves Money :
Fuel cell vehicles require low maintenance costs. The customers will be able to use these vehicles like the electric generator, by connecting them to their homes and therefore decreasing their paid electricity use from the grid.
Low noise pollution :
Another major benefit of the fuel cell vehicles is that they causes low noise pollution. As they do not have any moving parts they are sound and vibration free. Fuel cell vehicles are quieter then the internal combustion engine. It also aims at improving the public health reducing the exposure to fuel and emission dangers.
Efficiency :
While using the fuel cell vehicles the customers do no have to short run their expectations about the performance and range. The vehicles powered by the internal combustion engine are more cleaner and efficient than those powered by the internal combustion engine. Infact they are more reliable than the other conventional vehicles, because of the absence of the internal combustion engine.