Eco Tourism is one of the latest additions to the tourism industry, which is fast gaining momentum. It is a responsible tourism to the natural areas, which conserve the ecology and promotes the welfare of the people. It entertains the visitors in a way that it does not effect the world's natural and cultural environments. Infact it is one of the most fastest growing sectors of the tourism industry. The revenue generated from the tourism industry encourages the state and central government to fund various conservation programmes in a country.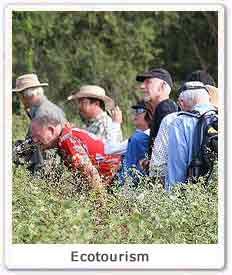 This culturally responsible and high quality environment friendly tourism is capable of satisfying the visitors in all aspects. Each one of us has a responsibility towards the environment, what ever it is, weather a nature camping tour or the
trekking
trip, one should always keep in mind not to disturb the nature. Well said "take nothing but photographs, leave nothing but footprints". Eco tourism ensures the survival of the attractions of the nature and culture, without harming the resources. Eco tourism is a sound environmental tourism, which is promoting nature travel as the hottest eco correct activity available. It focuses tourism to the destinations where
flora
-
fauna
, cultural and historical heritage are the prime attractions.
Is the Eco Tourism Beneficial? Undoubtedly, Yes! As the eco tourism is a nature based tourism which preserves the nature and the cultural values of the locals.
Eco Tourism minimizes the negative impacts on the local people and the natural environment.
Eco Tourism minimizes the negative impacts on the local people and the natural environment.
Eco tourism directs economic and other benefits to the local people by providing them employment.
It promotes conservation of natural assets and enhances the cultural integrity of the local people.
Eco tourism has become the major source of income and is attracting lot of travel agencies than ever before.
It promotes the preservation of wildlife and the natural habitats.
Providing positive attitude and experience among the travelers.
Eco tourism supports the international labor agreements.
Ensures that the natural resources are conserved and managed properly so that they could be saved for the future generations.
On the other hand if eco tourism is not monitored properly it can be as damaging as the mass tourism :
It is the major threat to the rich biodiversity and natural habitats of the wilds in the jungles.
Eco tourism tends to conserve the environment at the expanse of the development prospects for the third world communities.
Located in the eco systems, eco tourism projects itself are the biggest obstacle in the way of the development of the environment.
Competition for eco tourism income between the various groups leads to social disharmony.
Increased use of resources by the human population, even in the smallest sense cause problem to the environment.
Another major threat to the environment are the production waste and effluent pollution as well as increasing human activities like logging, and agricultural clearance.