Nilgiri hills, so called "The Blue Mountain", situated in the South India is another very popular spots sheltering numerous of beautiful tea gardens. The hilly landscape of Nilgiri , unlike
Darjeeling
and Assam, grows Tea plants all over the year. At Nilgiri the tea is grown at the elevation of around 1,000 meters to 2,500 meters. The major teas produced on the Nilgiri hills are the Oolong and black tea. The favourable climatic conditions, makes Nilgiri a truly unique tea.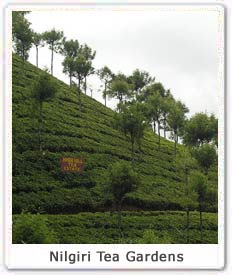 Some of the popular tea esates in Nilgiri include Tiger Hill, Corsley, Craigmore, Pascoes Woodlands, Colacumby, Nonsuch Dunsandale, Chamraj, Parkside, and Glendale. Nilgiri teas are often referred to as 'The Fragrant Ones'. The flavour of the Nilgiri tea is the result of the higher elevation at which they are grown. Places like
Ooty
, Coonoor and Kotagiri of Nilgiri region are not only famous for their flavoured Teas, but also these beautiful hill stations offer a very pleasant getaway destinations for vacationers.
Tourists Activities :
Picnic :
Tourists can take a walk through the tea gardens enjoying the breathtaking views of the Nilgiri hills in all its natural glory. These magnificent tea gardens are the popular picnic spot. It is where you can learn about the tea picking and processing.
Visit to the Nilgiri Tea Auction Center :
You can make a visit to Coonoor, the tea center of the Nilgiris auction centers. At coonoor more than one million pounds of tea is sold in on one week, which amount to double in the rainy season. While at this place you can enjoy also enjoy trekking and hiking at this place.
Shopping :
Nilgiri gives you the opportunity to shop for the exclusive home made chocolates, fruits, Nilgiri tea, natural oils like the Eucalyptus oil and many more items. For more curious tourists there is also the facility of home stay with the local villagers, which gives you the opportunity to enjoy the to learn about their lifestyle and know how do these people earn their livelihood.
Tea and Tourism Festival :
One of the famous attraction of the Nilgiri Hills is the 'Tea and Tourism Festival' organized by the Ministry of Tourism, Government of Tamil Nadu and Government of India during the months of January to February every year. The festival continues for three days. It gives you the opportunity to explore the various varieties and taste of teas available there. The festival gives you the opportunity to enjoy the elegant Nilgiri Kotha Dance and Badaga dance performed by the local artists.