Bhutia Places they inhabit :
Bhutia tribes are of the Tibetan origin. They migrated to Sikkim around 16th century. In the northern part of the
Sikkim
where they are the major inhabitants, they are known as the Lachenpas and Lachungpas. Majority of the Bhutias are concentrated in the dry valley of the north Sikkim.
Language and Costumes :
Bhutia tribes usually speak Sikkimese. Apart from that they also speak Lepcha, Bhutia, Nepali, English and Hindi. Bhutia male wear Bakhu which is a loose traditional dress with the full sleeves. While the women dress consists of Silken Honju, which is the full sleeves blouse and a loose gown type garment. Female also prefer wearing jewellery of pure Gold.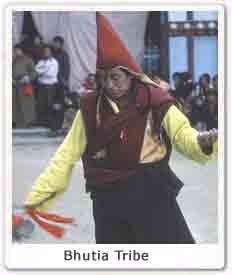 Population and Occupation :
Bhutias forms 14% of the total population of Sikkim. They are extremely warm hearted and simple people. They prefer living in the joint families. A Bhutia house called Khin is usually built in the rectangular shape . Most Bhutia follow tantric Buddhism. The legal system among the Bhutias is termed as the Dzumsa, which means the rendezvous point of the common masses. Dzumsa is headed by Pipon who is the village headsmen. It ensured law and order and is responsible for conservation practises such as grazing, cultivation programs and the seasonal development of the community. Agriculture is the main source of occupation among the Bhutias. While some of them are also herdsmen and the breeder of sheep and yaks.
Cuisine :
Bhutias usually prefer rice with the animal fat. They are common beef eaters. Some of their traditional costumes include Momos, Gya Thuk, Ningro with Churpi, Sidra Ko Achar, Saelroti, Shimi Ko Achar, Pakku, Kodo Ko Roti, Phapar Ko Roti, Silam Ko Achar, Phulaurah Gundruk, Phagshapa, Sael Roti. They are also fond of Chaang (the millet bear). It is served in the special bamboo container called Tongba with the hollow pipe made of Bamboo.
Festivals :
Losar and Losoong are the main festivals celebrated among the Bhutia tribes. Losar falls in the first week of the February. It marks the beginning of the Tibetan New Year. The act of Fire Metho takes place in the evening. Losoong marks the end of the harvest season and also the end of the Tibetan year. It falls in the end of the tenth Tibetan lunar month (in December). It is among the most important festival among the Bhutia tribes in India. Chaan dancings and merrymaking at the monasteries at Palace (Tsuklakhang), Phondong and Rumtek. Archery competition is the main attraction of the festival. They make offerings to the God and exchange feasts among each other. Stage fights and passing through the crowds with the fire torches add more excitement to the festival.