Places they inhabit :
Munda tribe mainly inhabit in the region of Jharkhand, Although they are well spread in the states of West Bengal, Chhatisgarh, Orissa and Bihar. Munda generally means headman of the village.
Language and Physical Characteristics :
Mundas speak Mundari language, which belongs to the family of Austro- Asiatic. The complexion of Mundas is blackish. They have short curly hair. With the passage of time some of the Mundas resembles same features as that of the Bengali's. Common surnames used among the Mundas includes Topno, Barla, Aind, Hemrom, Guria, Herenge, Surin, Horo, Sanga and Samad.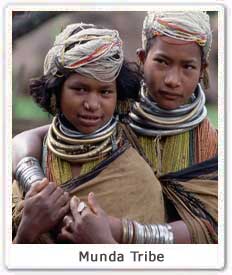 History of Mundas :
Mundas are the tribal communities from the south east Asia. There are some evidences of the Mundas kingdom in the Pre British times. For example the Ho/Munda kingdom of Chota Nagpur, and the Bhumij states, especially Barabhum.
Religion :
Christianity is the main religion followed among the Mundas. Apart from that Mundas have their own religion known as Sarna. Sarna stress on the belief of one God. Mundas believe in the supreme being known as the Singbonga, which means the Sun God. According to the Mundas, he saves them from the external enemies and troubles of life. They say Singbonga punishes them if they break the law of marrying in their ones tribe. Mundas are of the belief that Singbonga is not the jealous God and gives his people the right to worship any celestial being. In Sarna the Mundas worship the nature. The Mundas are highly superstitious people. The Sarna people do not have any written code of moral laws. The ides of what is right and wrong is the adopted from their traditions and cultures. Some of the Mundas also worship Lord Shiva.
Occupation of the Mundas :
Mundas have remained haunters for centuries. But now they have been converted into the settled agriculturist. Most of the then do not have land of their own. They are largely dependent on the labour work in the fields to earn their livelihood.
Food and Clothing of Mundas :
Mundas have been the animal eaters for the long time. They usually eat frogs, snakes, rats, earthworms, shells and snails. They prefer having Tari and Haria wine on the various occassions. As the Mundas are in close touch with the Hindu society. Munda men usually wear pant and shirts. While the Munda Women are seen wearing the cotton saris with the cholis or blouse.
Festivals :
Mage, Phagu, Karam, Sarhul, and Sohrai are the few festivals celebrated among the Munda tribes.