Location and History of Chamba Valley :
Chamba Valley situated in the north western part of India in the state of Himachal Pradesh, is quite famous for its natural beauty. It is one of the loveliest valleys in Himachal Pradesh. It lies between the Zanskar and Dhauladhar in the south of the Himalayas. The valley is unique in its surroundings, which offers breathtaking views of the peaks. The nature has endowed the Chamba Valley with the exotic beauty, which is reflected in its picturesque landscapes, surrounding greenery and rich wildlife. The local Rajputs of the region ruled the Chamba Valley in the 6th century BC and made it their capital. The Chamba valley is U in shape. Chamba, Bharmaur, Dalhausie and Khajjiar are the major towns located in the valley. The best time to visit Chamba lies between March and June.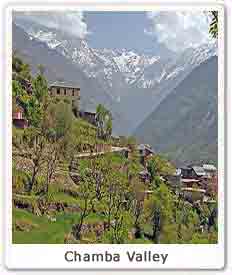 Flora of Chamba Valley :
The spectacular beauty of the snow clad peaks leaves you spellbound through out the journey to the Chamba Valley. It is popularly known as the Ravi Valley. Small villages and hamlets extended over the landscape provides the delightful sight to the visitors. The trees of Olive, Pomegrantate,
peepal
and Shisham that surrounds this magnificent valley add an charm to its beauty. Chamba valley is quite popular for the medicinal plants and numerous species of flowers. It serene beauty makes it a popular holiday destination among the tourists.
Adventure Activities in Chamba Valley :
The Chamba Valley provides exciting opportunity for rock climbing,
mountaineering
and kayaking. Chamba valley is the famous pilgrimage site. On the tour to the Chamba Valley, tourists can make a visit to the number of temples such as Laxmi Narayan Temple, Brajeshwari Devi temple, Chamunda Devi temple, Sui Mata Temple and Hari Rai Temple. Tourists can also shop for the handicrafts items made by the local artisans.
The Valley is the most popular trekking site in the Himachal Pradesh. It also offers tremendous opportunity for the challenging sports of rafting. Tourists can take a nature walk around the Chamba Valley or can pass time venturing in the rice fields. Visitors also have the opportunity to go for the wildlife safari in the Kalatope Khajjiar Sanctuary. While in Chamba you must visit the Bhuri Singh Museum, which provides the fine collection of murals, paintings, and miniatures from Basholi, Kangra and Chamba school of painting.