Location of Damodar Valley
Damodar River flows in the north eastern part of India, in the Chota Nagpur Plateau of south central Bihar state. The river is 563 km long and passes through the West Bengal to join the Hooghly River south west of Calcutta. In the upper valley area Damodar is dominated with the major economic activities. Damodar Valley is the highly developed industrial area. The valley is dotted with more than 400 industrial units. It is the treasure house of Indian coal. India industry highly depends on the coal received from this region. Other than coal several non coal minerals like mica, fire clay, bauxite, limestone, china clay and many more are associated with the geographical formation of the Damodar Valley region.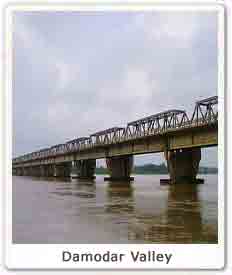 About Damodar Valley Cooperation?
DVC is the multi purpose project of the independent India. Damodar Valley Cooperation was set up in the year 1948 under the act of Parliament for the unified development of Damodar Valley in Bihar and the West Bengal. The project to build a Dam across the Damodar Valley was the joint venture between the Government of India and the states Government of West Bengal and Bihar. The regions covered by the Damodar Valley include Hazaribagh, Koderma, Giridih, Dhanbad, Bokaro, Bardhaman, Chatta district of
Jharkhnad
and Hoogly district of West Bengal.
Why was Damodar Valley Cooperation set up?
The main objective behind the Damodar Valley Cooperation was the flood control in the region. Damodar Valley Cooperation or DVC was set up after the floods of 1943 which caused the huge devastation. Other functions assigned to the cooperation are generation and transmission of power, irrigation, soil conservation, navigation, promotion of public health, agricultural, industrial and economic development. The states of Bihar and West Bengal are highly dependent on the Damodar Valley for the power supply.
DVC has total three thermal power stations, in the regions of Bokaro, Chandrapura and Durgappur respectively with the total installed capacity of 1755 mw. The power station built in the Bokaro is the Biggest in the country. Damodar Valley Cooperation consists of four multipurpose dams at Tilaiya, Maithon, Panchet and Konar. It has three Hydel stations appended to Tilaiya, Maithon, and Panchet dams with the capacity of 144mw. DVC has also set up three Gas Turbine units of 30 mw each at Maithon.
Damodar Valley Waste :
Damodar River is called as the 'Sorrow of Bengal'. In the course of time Damodar River has become one of the most polluted rivers in the country. Industrial waste from thesurroundinf industries is the main reason of pollution in the valley. The government is taking steps to reduce the level of pollution in the Damodar Valley.