About Nagarjunasagar Valley :
Nagarjuna Sagar has derived its name from the great Buddhist teacher Acharya Nagarjuna of the 2nd century AD. The Valley flourished the most under the rulers of the Ikshvaku dynasty. It was one of the biggest and most important center of the Buddhist settlement in the southern India. It was once the rich and culture city with stupas, monasteries, chaityas, and brilliant sculpture adorning them.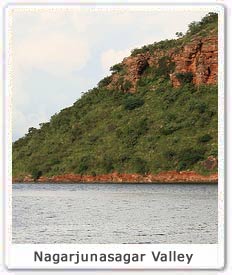 Nagarjunasagar Dam
Nagarjuna sagar Dam is constructed on the river Krishna in the Gantur district in Andhra Pradesh. It is considered as the biggest Dam in Asia. The total height of this mightiest Dam is 124 meter. The ideal time to visit the dam the Dam lies between the month of October to February. The construction of this Dam was completed in the year 1966. The Dam has the power generating capacity of 1 Million KW. The Dam irrigated over the 3.6 million acres of land in the state of Andhra Pradesh. The lake near the Dam is the third largest artificial lake in the world. Witness the historic sites near the Dam where the relics of the Buddhist excavations of the ancient times are found.
Sightseeing in Nagarjunasagar Valley :
Anupu :
Anupu lies at the distance of 4 km from the site of the Dam. It is called as the Simhagiri. The site consists of the amazing Buddhists buildings like the Maha Vihara and Amphitheater. The island museum is the outcome of an architectural marvel comparable with the world famous preservation scheme for preserving the monuments of Abu symbol near Aswan dam in UAE.
Srisailam Wildlife Reserve :
On the tour to the Nagarjuna Sagar Valley tourists are advised to make a visit to the largest Tiger's reserve in India -the Srisailam Wildlife Reserve. The park covers the major five districts namely Kurnool, Prakasam, Guntur, Nalgonda, and Mahboobnagar. It gives you the opportunity to take the wildlife Safari and spot the animals in the wild. The major attractions of the park include Tiger, leopard, sloth bear, wild dog, pangolin, spotted deer, sambar, mouse deer, black buck, chinkara, chausingha, mugger, python, cobra, peafowl.
Ethipothala Waterfalls :
Apart from the Srisailam Wildlife Sanctuary, another attractions of the valley are the Ethipothala Waterfalls, located 11 km from the Nagarjuna Sagar. It is the great pinic spot among the tourists visiting the Nagarjuna Sagar Valley. The fall originates from the Chandravana Mountains. This popular waterfall is the combination of three streams – Chandravanka Vagu, Nakkala Vagu, and Tummala Vagu.