Jyotisar village lies at the distance of 12 kilometer from the city of Kurukshetra on the Pehowa road. It is located the distance of about 8 km west of Brahma Sarovara. It is one of the holy places of Kurukshetra. The word Jyotisar is combined of two words 'Jyoti' means light and 'sar' means tank.
Important Facts :
Jyotisar is the birth place of the holy book of the Hindus called Bhagwad Gita.
Legends say it is the same place where Lord Krishna had delivered the message of Gita to Arjun the hero of the Great Indian epic Mahabharata.
Tourists from all around the world make a visit to this village, especially during the solar and lunar eclipses, when pilgrims take the holy dip.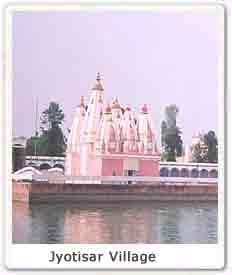 Jyotisar as a tourism Destination :
Ministry of Tourism is slowly working out to make Jyotisar into a developed tourism center. Certain provisions are made to provide training to the local artisans and workers. Tourists who are interested in learning craftsmanship will also be provided the home stay facility in the village. They are also planning to establish the shopping complex in the village.
Art and Craft :
Dari Making :
Local villagers are expert in making colourful dari's, which they have been practicing from generations. Apart from that they are also engaged in traditional poetry, wood carving, and folk painting .
Famous Attractions of Jyotisar Village :
Temples and Museums :
The main attraction of the Jyotisar village is is the marble image of the Lord Krishna and Arjuna. The image depicts the scene from the Mahabharata war in which Lord Krishna explains to Arjuna, the doctrine of Karma through Gita Updesh. A banyan tree, which is believed to be an off-shoot of the original tree under which Krishna gave his sermon gives shade to this area. Tourists can also make a visit to the small temples, bathing ghats and fine water bodies in the area. The old Shiva temple is quite popular in the area. Moreover you can make a visit to the Shri Krishna Museum depicting the life of Krishna and Mahabharata episodes. It is a cylindrical structure. It has a 34ft high depiction of the Mahabharata battlefield. The battle of Mahabharata comes alive with special acoustic effects.
Light and Sound Show :
On the tour to Jyotisar, tourists can be part of the entertaining light and sound show every evening. The main attraction of the show is message of Lord Krishna and his philosophy of life. Local people are seen performing on the Mahabharata scenes.
Shopping :
While in Jyotisar you can shop for the handicrafts work made by the villagers of that region. The most famous items you can look for in the market includes carpets, soft toys, shoes and pottery.