The village of Lachen lies at the distance of 126 kilometer from Gangtok. It is located at the height of 9920 feet. The numerous hot springs, pristine lakes and exciting trekking routes is what makes this destination truly appreciable. The best time to visit Lachen lies between the month of March to early July and from October to mid December.
Important Facts :
World's third highest mountain, the Kangchendzonga, is the main attraction of the Lachen village.
Legends say that Lachen was first placed on the chest of of the Goddess Dhomai Rhee who in turn start feeding the villagers with perennial source of water
If you want to see the making of yak and sheep wool Lachen village is the best place to be in.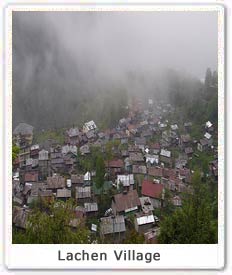 Village Overview :
Lachen Village Pattern :
Lachen village comprises of total 150 houses. They were inhabited by their owners in the winter months, who use to spend their summers on the alpine pastures along the Tibet border.
Occupation of the Lachen Villagers :
People in Lachen village are mostly sheep and Yak herders. Some of them have been converted into agriculturists yielding potatoes, vegetables and coarse millets. Womens weave carpets from yak/sheep wool.
Famous Tourists Attraction :
Lachen Monastery :
On your tour to the Lachen village, do not forget to visit the most exotic attraction of the Lachen -the Lachen Monastery. The Lachen Monastery was built in the year 1844 that belongs to the Nyingmapa order. Tourists can venture into the apple orchards and vast fields.
Art and Craft :
Cuisine :
Food of the Lachen people is mostly rice and pork. Rice and Potato is the staple diet and is eaten in various forms throughout the year. They eat huge variety of noodles, local bread, corns and momos. Authentic Lachen dishes are simple yet delicious.
Fairs and Festivals :
Losoong is the major festival celebrated in Lachen. Lo means year and Soong means celebrate. The Bhutia festival marks the end of the harvest season and also the end of the Tibetan Year. The main attractions of the festival are religious dances (chaams) in the monasteries of Tsug Lakhang, Phodongand Rumtek. Villagers adorn themselves with the traditional dresses and perform Kagyed dance. The families of the village gather all together for the grand feast. It is celebrated in the month of December every year. Yak race and archery competition are the main highlights of the year.