Location :
Athirampally and Vazhachal Waterfalls are located at the at the distance of 90 km from Kochi. They are located in the district of Thrissur close to the Sholayar forests ranges in
Kerala
. Athirampally is approximately 63 km and Vazhachal is approximately 68 km Thrissur. After running down 80 feet Athirampally fall joins the Chalakkudy river. The pristine Vazhachal waterfall is located amidst the dense green forests and is the part of the Chalakkudy river. You can visit the waterfalls any day between the 8 am to 6 pm. The best time to visit the waterfalls is after the monsoons, between the month of September to February. Athirampally and Vazhachal waterfalls are one of the best waterfalls in the country.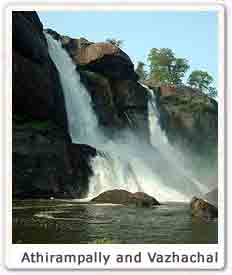 Tourists attractions :
Vazhachal is quite popular among the tourists for its exotic flora and herbal plantations. The major attraction among the tourists are the two water themes parks namely the Silver stone and Dream World, which are located west of Athirampally. The scenic Thumpurmuzhi gardens are beautifully tucked between the two theme gardens. Another waterfall which is quite popular in the area is the Charpa fall, situated on the eastern side of Athirampally. Tourists have the golden opportunity to venture into the fascinating Malakapara tea gardens. You can make a visit to a beautiful Vachumaram lake, where you may get the chance to spot the wild elephants and spotted deers.
Picnic :
If you are looking for a break from the busy routine life of yours, Athirampally and Vazhachal waterfalls are the best place to seek. The natural spell bounding beauty of the area has made it a favourite picnic spot among the nature lovers. This is the place where you can spend time at leisure exploring its rich flora and fauna. The natural beauty of the Athirampally and Vazhachal is hard to describe in words.
Shopping :
Next to the Vazhachal waterfalls is the Moolika Vanitha Swasraya from where you can get the exquisite samples of the herbs, honey and herbal soaps at an reasonable rate. You can also shop for the bamboo wall hangings and hats from here. You may find number of stalls on the roadside selling wild honey. You can explore the handicrafts items made by the local villagers and buy them for the near and dear ones.
Things to Remember :
Tourists are requested to maintain eco tourism in the area. Do not throw the waste anywhere unnecessarily. Do not smoke and do not consume alcohol. Please mind that swimming is strictly prohibited in the area. Tourists are recommended to wear comfortable clothes while visiting the place. Carry along with yourself insect repellent and first aid box. You are requested not to feed the animals especially the monkeys as the waterfalls are plastic free zones.