Kochi also known as Cochin Backwaters in the Indian state of
Kerala
is a lovely destination to visit. Kochi is natural beauty visited by the tourists to relax in the serene backwaters. Kochi is the cluster of islands on the Vembanand lake. Most popular among them include Bolgatty, Vypeen, Gundu and Vallarpadam.
Tourists activities :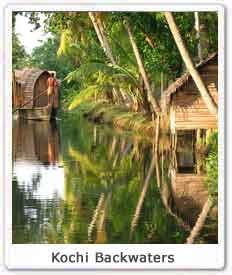 Ayurveda :
Tour to the Kochi, gives you the opportunity to practice Ayurveda in its calm and serene environment. It is the place where the nature itself cures the diseases. Equable climate and natural abundance of greenery are best suited for the Ayurveda rejuvenating treatments.
Fishing and angling :
Fishing and angling are now a days turning out to be a great water activity. You can also try your hand at angling and fishing at the Kochi backwaters along with the local fisherman. You can even converse with these fisherman to know about their culture and lifestyle.
Sunset Watching :
Watching the sun go down spreading vibrant colours in the sky is another sight to see at Kochi Backwater. It is the right place to discover the peace and you will actually feel the travails of the metro life fading away.
Tourists attractions :
Chinese Fishing Nets :
Locally known as the 'Cheenavala', the Chinese
fishing
nets are the trademark of the Cochin city. The Chinese fishing nets were set up between 1350- 1450. These popular nets are built of teak nets and bamboo poles. Beautifully lined along the sea front these fishing nets were introduced by the Chinese traders from the court of Kublai Khan. The specialty about these nets is that, apart from Chin these nets are only found in Kochi, which are still used by the local fisherman to catch the fish.
Mattanchery Palace :
Popularly known as the 'Dutch Palace' Mattanchery Palace, has been an important trading center from the past few centuries. The Palace is one of the oldest building of the Portuguese, built by the them in the year 1555. It consists of lonf spacious halls with the central courtyard enshrining Palayannur Bhagavati – the Royal Diety. Apart from that there are two temples on the either side of the Palace dedicated to Lord Krishna and Lord Shiva respectively.
St. Francis Church :
St. Francis Church was built by the Portuguese in the AD 1510. It is said to be India's oldest European church. Vasco De Gama was laid to rest in this Church in the year 1524, but later on his body was transferred to Portugal.
Jewish Synagogue :
This popular historical monument is located in Mattancheri, and is known as 'Paradesi Synagogue' It was built in 1567 AD and was rebuilt in AD 1664 by the Dutch. The Synagogue houses the famous copper plate grant of Bhaskara Ravi Varma, dated AD 1000, a golden crown presented by the Maharaja of Travancore in AD 1805 and the great scrolls of the old testament.