Geographical Location :
Eastern Ghats are discontinuous range of mountain set along Eastern coast. Starting at West Bengal, Eastern Ghats pass through states like Orissa, Andhra Pradesh and Tamil Nadu. These Ghats are ripped through by rivers like Godawari, Mahanadi,
Krishna
and Kaveri, the four major rivers of South India.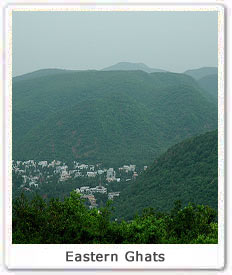 Characteristics of Eastern Ghats :
Eastern Ghats are older than Western Ghats. The elevation of eastern ghats is lower than the western ghats. They are are located between 11
o
30' and 22
o
N latitude and 76
o
50' and 86
o
30 E longitude in a North-East to South-West strike. It covers an total area of around 75,000 sq. km. Sirumalai and Karanthamalai hills of Tamil Nadu lies in the southern most part of the Eastern Ghats. North of Kaveri river are higher Kollimalai, Pachaimalai, Shevaroy, Kalrayan Hills, Palamalai and mettur hills in north Tamil Nadu.
One of the biggest characteristics of Eastern Ghats lie in its being extremely fertile. In fact, the Ghat is said to be the watershed of many rivers as the Ghat gets higher average waterfall. Due to higher rainfall, the fertile land results into better crops. Often referred as "Estuaries Of India", Eastern Ghats gift its inhabitant the popular profession of fisheries as its coastal area is full of fishing opportunity. Like Western Ghats, thus, Eastern Ghats also carry a heap of ecological importance.
Eastern Ghats Flora and Fauna :
The diversified ecological niches and environmental situation provide habitat for rich fauna. Eastern ghats is home to largest number of Asiatic elephants in the world. Other large animals such as Nilgiri Tahr,
Leopards
, Gaurs, Sambar, and tigers abound the landscape. Apart from this, these ghats are known for the wide variety of birds species. As a traveller you would be able to explore other wildlife sanctuaries and national parks in the eastern ghats such as the Simlipal National Park, Baissipalli Wildlife Sanctuary, Satkoshia Gorge Sanctuary and many more. Eastern ghats also holds the rich floral system. It is region where you may find large number of medicinal plants.
Eastern Ghats Tribal Population :
The land is also occupied by quite a few tribes which includes Savara, Jatapu, Konda Dora, Gadaba, Khond, Manne Dora and mukha Dora. These indigenous people have their own unique cultural heritage. These people follow the age old customs and traditions. They are still dependent on the forest produce and haunting for their livelihood. These tribes have good knowledge about the region and its produce and thereby make a good use of its medicinal plants.