Origin of the Krishna River :
Krishna river originates in the western ghats near
Mahabaleshwar
at an elevation of about 1,300 meter, in the state of Maharashtra in central India. It is one of the longest rivers in India. The Krishna river is around 1,290 km in length. It flows through the states of Maharashtra, Karnataka and Andhra Pradesh before merging in the Bay of Bengal at Hamasaladeevi in Andhra Pradesh. The principle tributaries of the Krishna River includes Koyna, Bhima, Mallaprabha, Ghataprabha, Yerla, Warna, Dindi, Musi, Tungabhadra and Dudhganga rivers. The river basin is approximately 200 meter deep. Krishna river is the oldest river in India.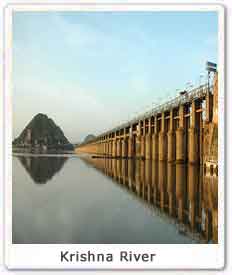 Religious Significance :
River Krishna is sacred among the Hindus in India. The river is named on the name of the Lord Krishna. It is believed that by taking the ritual dip in its water can purify all the past sins of the human beings. The river is referred to as the Krishnaveni mata among the Hindus. There are many pilgrimage centers on the banks of the River Krishna including Mallikarjuna temple (Srisailam), Amareshwara Swamy temple (Amaravati), Dattadeva temple, Sangameshwara Shiva temple, Ramling temple and Durga Malleshwara temple (Vijyawada). The center of attraction is the Krishna Pushkaram fair which is held one in twelve years on the banks of the Krishna river.
Flora and Fauna :
The wide spread area near to the Krishna river holds the rich flora and fauna. The last surviving Mangrove forests in the Krishna estuary have been declared as the Krishna Wildlife Sanctuary. The sanctuary is the home to the large number of resident and migratory birds. Fishing cat, otter, Estuarine crocodile, spotted deer, sambar,
black buck
, snake, lizards and jackal can also be spotted in the sanctuary. The sanctuary also supports rich vegetation with plants like Rhizophora, Avicennia, and Aegiceros.
Pollution :
River Krishna is dying at an increasing rate. The river receives the waste from the large number of cities including Hyderabad, Pune, Satara, Kolhapur, Kurnool and many more. The sewages from the twin cities of Hyderabad and Secunderabad flows into it. Large number of industrial units operates from the river basin which are the main reason for the water pollution in the Krishna river.
Dams on the Krishna river :
Two dams have been constructed on the Krishna river, one at Srisailam called Srisailam dam and other one at the Nagarjuna hill. There are many waterfalls found along its tributaries namely Ethipothal a, Pedda Dukudu, Gundam and Chaleswaram.