Geographical Location :
Western ghats are the continuous range of mountains, rising up from the India's Malabar Coast. The average elevation of the western ghats is approximately 1200 meters. Starting at south of
Tapti river
(near the border of Gujrat and Maharastra), Western Ghats cover 1600 Km, and pass through states like Maharastra,
Goa
, Kerala, Karnataka and Tamilnadu. The mountain range of Western Ghats end at Kanyakumari, which is the southern end of India.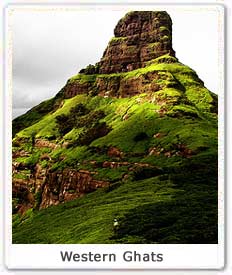 Climate :
It is very important to know about the climatic conditions, as it helps in understanding the proper ecology of the region. The elevated region of the western ghats records the temperate climate while the climate is tropical and humid in the lower parts. The temperature ranges from 20oC in the south to 24oC in the north Although the climate is largely modified by the seasonal winds. During the summer season they are responsible for bringing the monsoon and in winters the winds provide the cool and serene atmosphere.
Western Ghats forests and eco regions :
The landscape comprises of variety of
eco-systems
– ranging from lush green to moist evergreen forests. Numerous hills in the mountain range of Western Ghats are continuous and have higher peaks. Many of peaks and hills, such as Kalsubai, Mahabalehwar, Taramati, Harishchandragad, Mullayanagiri, Nilgiri and Biligirirangans are house to plenteous dense forests. In fact, the Western Ghats prepare the largest forest area in the South India. The major vegetation types are tropical evergreen forests, moist deciduous forests, scrub jungles, sholas, savannas including the high rainfall savannas. The highly dense forest has several wildlife parks including the Silent Valley National Park which is considered to be the only virgin forest in the country.
Western Ghats Floral System :
Western ghats are known for the 56 genera of flowering plants, which are considered as endemic. Apart from this there are four thousand species of flowering plants that are known from the western ghats includingCycas circinalis (Cycadales), Decussocarpus wallichianus (Coniferales ), and Gnetum ula and G. contractum (Gnetales). Amongst the lower plants 320 species of pteridophytes, 200 species of bryophytes, 300 species of algae and 800 species of lichens are known.
Western Ghats Wildlife :
These ghats are the home to some of the rarest and endangered faunal species on earth like lion tailed macaques, claw less otters, Nilgiri langurs, Nilgiri Tahr are few such examples. Apart from these Western ghats boost of very rich species of amphibians, which includes 117 species of frogs, toads and caecilians.
There are several wildlife sanctuaries and evergreen forests such as Nagarhole National Park,
Bandipur National Park
, Wayanad National Park and Mudumalai National Parks that are located in this Ghat. The filthily well off dense forsets in shelter numerous of wild animals. Karnataka Ghats alone are home to over 6,000 elephants. Besides, a large number of Tigers, Gaurs, Butterfly and hundreds of species of Birds are found here. Than there are around 218 species of freshwater fishes, out of which 53% in the western ghats are considered as endemic.