Dominating the Indian state of
Rajasthan
, the Aravalli hills are the range of mountains that stretch diagonally from Kotra in the northeast to Khetri in the southwest direction. Aravalli's are the oldest existing mountains in the world. Guru Shikhar (1721m) is the highest point of the range, located at about 15 km from northeast of
Mount Abu
. The Aravalli acts as the edge, which separates the
Thar desert
from the plains and plateaus of the eastern Rajasthan. Spread over 600 km these Aravalli range protect the city of Rajasthan from the rough desert. Not only this for several centuries these hills are also providing security to the city of Rajasthan.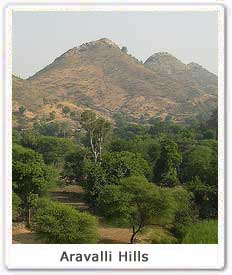 These mountain ranges are dotted with many forts and palaces along with the several historical towns of Pushkar, Udaipur, and Bundi. Although the Aravalli is a vast barren land, but as the region experiences the high rainfall. With the onset of the monsoons, the Aravalli booms with the numerous species of plants and animals. Leopards and Tigers can be commonly seen here. The Aravalli expedition gives you the lot of photography opportunities. It may also give you the opportunity to to enchant with the nomadic tribes that can be easily found here with their folks in search of pastures.
Wild side of the Aravalli Hills :
The hills are the home to some of the most magnificent species of mammals, birds, reptiles, birds etc. There are several national parks and wildlife sanctuaries that fall within the belt of Aravalli Hills.
Sariska National Park
, Kumbhalgarh Sanctuary and Mount Abu sanctuary are among them. These sanctuaries provide shelter to large number of animals and birds such as monkeys, langurs, sloth bear, spotted deer, sambar deer, hyena, jackal, jungle cat, python, great Indian bustard, eagles, Indian wolf, flying squirrel and many more.
News of Importance :
With the view to preserve the eco system of the Aravalli Hills, the government of India has banned all the mining operations in the Aravalli Hills. The government is taking action against those who are practicing illegal activities in the region and disturbing the whole ecological balance. It is also taking account of the large scale damage caused by such a activity.
Tourists Activities :
Trekking at Aravalli Hills :
If you are looking for some kind of adventure, you can avail the facility of
trekking
available at the Aravalli Hills. There are several areas (especially the Mount Abu) at the Aravalli hills that are simply ideal for the trekking trip. Venture through the dense forests and lush meadows while trekking at the hills. You even get the opportunity to make a visit to some of the most famous temples like Arbuda Devi temple. You are totally enthralled by the spectacular view of the hills.
Rock climbing :
The Aravalli Hills offers some excellent climbing opportunities at Dhauj, Dumdama, and Nuh. The hard granite rocks of the Aravalli hills are just perfect for mountaineering. If you are really good at climbing, than you can definitely try out your skills here, as it can be bit challenging for you. The fantasy of surrounding hills keeps your spirits high.