Place :
Ladakh, Jammu and Kashmir, Northern India.
Major Attractions :
Snow Leopards, Shapu, Bharal, Wild Sheeps and Goats.
Area Covered :
3,350sq. Km.
Ideal Time to Visit the Park :
For Mammal Viewing: September to March.
For Bird Viewing: March to May.
From mid June to mis October, you can find a large number of trekking routes to its visitors.
Nearest Attractions :
Leh, Ladak.
Some Major Accesses :
Srinagar, Jammu and Chandigarh.
Things to Know
Where is the Hemis High Altitude National Park
At an altitude ranging between 3,300 and 6,000 m above the sea level, Hemis High Altitude National Park is situated at Ladakh in Jammu and Kashmir. The park stretches from 33°15' to 34°20' North latitude and from 76°50' to 77°45'E longitude with an altitudinal range of 3,300 m at the confluence of the Indus and Zanskar rivers in the northwest to the 6,400 m Kang Yisay massif in the northeast. With rough terrain and abundant wildlife, this park attracts a large number of tourists annually. It is the largest high altitude and conserved national park of India. On the banks of Indus River, the park includes the cachements of Markha, Sumdah and Rumbak. The most prominent animal found here is Snow Leopard which has given this park, a status of Snow Leopard Capital of India. This treasure trove of scenic and unblemished beauty is located in northern region of India, at the foothills of Himalaya.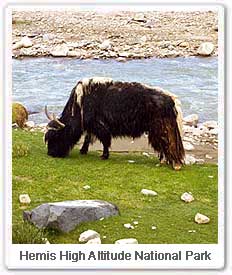 The Climate in the Hemis High Altitude National Park
The climate of area is one of extremes, with considerable daily and seasonal fluctuations. Precipitation is low with only 160.5 mm per year recorded at Leh. During winter the Zanskar River and its tributaries become frozen. Temperatures during winter drop typically to -15°C to -20°C at night and rise to near freezing point in daytime. Although summer temperatures can reach upto 30°C at the lower elevations, snowfall can occur at any time of year. Annual precipitation in Leh at 3,500 m in the Indus valley is about 10 cm, but rainfall and snow increase with altitude.
Important Dates in the Hemis High Altitude's History
This national park of India was established in 1981 to preserve the dwindling wildlife in Ladak. The park has been named after Hemis Gompa which is a believed to have been established in 1630 by Lama Tagstang Raspa and built by Palden Sara under the patronage of King Sengge. The Hemis monastic complex is located in the state of Jammu and Kashmir within the Ladakh region of the Western Himalayas, at an altitude of 12,000 feet making it one of the highest settlements of the world.
The Ecological System in the Hemis High Altitude National Park
The Flora in Hemis High Altitude National Park
You will find alpine and steppe trees predominantly at Hemis High National Park. These trees and shrubs are spread across the valley bottoms. Since the upper mountain slopes are moist, this area is characterized by alpine vegetation including: Anemone,Gentiana, Thallctrwn, Lloydia, Veronica, Delphinum, Care.x and Kobresia. The other parts of the park support steppe vegetation which is dominated by Caragana, Artemisia, Stachys, and Ephedra, present along the lower river courses.
The Fauna in the Hemis High Altitude National Park
The park is famous for it's population of the rare Snow Leopards (Uncia uncia) and the Ibex (Capra ibex). Within the park, the best area for trying to spot the snow leopard is in the Shang valley area where it's density is the highest. Other than these two animals, the park also has Bharal (Pseudois nayaur), Wolf (Canis lupus), Pallas' cat (Felis manul), Tibetan argali (Ovis ammon hodgsoni), Blue sheep (Pseudois nayaur), Ladakh urial (Ovis vigne), Himalayan marmots (Marmota bobak), Tibetan Wild Ass or Kiang (Equus hemionus kiang), Wooly hare (Lepus oiostolus), wolves (Canis lupus),
Dholes
(Cuon alpinus), lynx (Lynx lynx), mouse hare or pika (Ochotona roylei) etc. To spot some of these animals, the best time is early morning and afternoons.
The Avi-fauna in the Hemis High Altitude National Park
There are about 70 varieties of birds that can be viewed here. Some of the common birds found here are: snow cock, chukor, magpie, Himalayan whistling thrush,
white rumped shama
, snow partridge, golden oriole etc. Other importants birds worth watching include: Great Grey Shrike, the Red Mantled Rose Finch, the Black Throated Thrush, the Robin Acceptor, the Spotted Flycatcher, various migrant Teal, the Red Flanked Blue Tail and the Great Nose Finch.
Safaris in the Hemis High Altitude National Park
Jeep & Elephant Safari
At such high altitudes, the best way to take a tour of some of the easy accessible areas is through jeeps. For higher altitudes, Jeep Safaris are not feasable and hence we recommend some enthralling trekking tours with trainned guides which will get you to some of the exciting spots within the park. These trekking tours will let you have a view of enslaving flora and fauna of the park. Take one such tour and wish that you also spot a growling leopard in the snow covered mountains.
Hemis High Altitude National Park Travel Circuit
Ladak-Mrakha Valley-Hemis High.
Delhi-Leh,Ladak-Rumbak Village-Hemis High National Park-Ganda La Pass.
How to Reach the Hemis High Altitude National Park
Air :
The nearest airport is Leh, which is connected by Indian Airlines to Delhi, Chandigarh, Srinagar, and Jammu
Rail :
The nearest railhead is Jammu, situated at a distance of around 690 km. Jammu is connected to all parts of India.
Road :
The Leh-Srinagar National Highway officially opens from May 15 to November 15 every year (depending on weather condition). The distances of some important destinations from Leh by road are: Srinagar, 434 km; Kargil, 230 km; Manali, 497 km; and Keylong, 380 km.