Location :
Located in the state of Himachal Pradesh in the northern part of India.
Time to Visit :
Any time of the year.
Weather :
Pleasant & healthy.
Known For :
The Rich Biological Resource.
Manali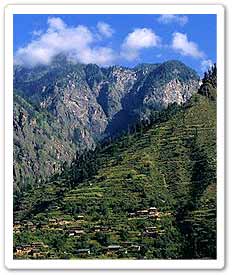 Manali is situated at the northern end of the
Kullu
Valley in the state of Himachal Pradesh in India. Manali has spectacular vistas of snow laded peaks and wooded slopes. The river Beas gushes along its rocky treks amid grassy surroundings, layered with wild
flowers
and wagtails hop along from stone to stone along the stream's edge. The lined orchards and fairy-tale forests of deodar offers marvellous walks.
The Manali market is peopled with mosaic of interesting shops selling Tibetan carpets and crafts, and the appetizing aroma of steaming noodles hangs about the little restaurants located around. Manali also has a Mountaineering Institute, which is a popular base for trekking and mountaineering in summer and skiing in winter. Interesting routes into the surrounding valleys, over the high passes, are provided with tourist huts and rest houses for
trekking
enthusiasts.
Eco-Tourism in Manali
Manali Wildlife Resource
Manali in Himachal Pradesh is the most beautiful destination with salubrious terrain, climate and heights. This has given a growing scope to variety of vegetation, wild animals and birds at different places and levels. The variety of forests like
sal
, rhododendron, oak, fir, deodar, birch, and pines are the pride of Manali. These forests shelter for large number of wild animal and birds.
Wildlife among which some rare species like the musk deer, ibex, thar, Himalayan brown bear and snow leopard are still found here. The river Beas offers ideal fishing grounds for trout and masheer.
To protect and conserve its ecosystem, Manali has declared a reserved area - the Manali Wildlife Sanctuary.
Manali Wildlife Sanctuary
Located about 2 km from the Manali town in the picturesque valley of Manali, the Manali Wildlife Sanctuary is reputed for its variety of flora and fauna and breathtaking scenic beauty. Alpine lush green pastures and glaciers beyond gallant thatch beckons the tourists from all around. Spread in an area of 31.80 sq km, the Manali Wildlife Sanctuary houses - Himalayan Black Bear, Himalayan Palm Civet, Barking Deer, Flying Fox, Goral, Indian Hare, Stripped Hyena, Leopard, Himalayan yellow throated Marten, Serow, Kashmir flying Squirrel and Himalayan Tahr.
The sanctuary has marvelous trekking routes and also have facilities for camping in the wild. The gushing streams fascinating alpine pasture and high snow covered peaks provide a celestail pleasure to the tourists.
Reaching Manali
Air :
Bhuntar is the nearest airport from Manali. From here one can take a bus or taxi to reach Manali.
Rail :
The nearest railway station is Joginder Nagar. From here one can take a bus or taxi to reach Manali.
Road :
Taxis, cars and other modes of transportation are available at Manali. Manali is well connected to all the parts of Himachal Pradesh.