Origin of Yamuna river :
The holy river Yamuna originates from the Bundar Poonch glaciers located in the state of
Uttaranchal
in India. It begins its journey from Jamunotri in the north of the Himalayan ranges. The total length of the river Yamuna exceeds up to 1,370 kms.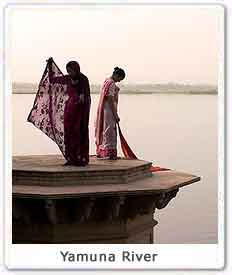 History :
According to the ancient Indian scriptures Yamuna was the daughter of the Sun God called Surya, sister of Yama (the God of death). River Yamuna is deeply connected with the Lord Krishna's birth. After his birth his father Vashudeva crossed the River Yamuna carrying him in the bucket. When Lord Krishna fell into the water, Yamuna once again became sanctified with the dust of his lotus feet. There are lot more stories connected with the River Yamuna in India.
Holy Bath :
According to the legends, by taking a dip in its water one can be freed from all the past sins of his life, as it is the same place where Lord Krishna used to play during his childhood. There is popular belief among the Hindus in India, according to which one who take bath in its water do not fear death.
Religious Importance :
Yamuna also known as Jamuna in India is regarded as Goddess in India. Many people in India call it Jamuna Mata and worship it. There are many festivals celebrated on the Yamuna river. Some sat that the source of the river Yamuna is the glacier lake called the Saptarishi Kund . There is also a sacred shrine of Yamunotri near this source. Every year thousands of pilgrims gather at te temple dedicated to the Goddess Yamuna. Yamuna river finds mention in the great Indian epic Mahabharata and Ramayana.
Journey of River Yamuna :
River Yamuna flows in the state of Uttar Pradesh and other parts of the northern India. It rises from the
Himalayas
near Yamunotri and from here the river flows through the Mathura Virandavan. Than she moves towards the southern parts of India and passes through the southeastern parts. At one point she reaches Prayag, where she joins the Holy Ganga. After that both Ganga and Yamuna flows till Ksheer Sagar.
Flora and Fauna :
The river holds the rich flora and fauna around itself. It is home to number of wild animals especially the
Indian elephants
.