Hodka Village is located in the district of Kutch in the state of Gujarat in India. It lies at the distance of 63 km from Bhuj. The name Hodka is derived from the Gujarati word 'hodi' which means boat. The colourful attrire of the people, rich art and craft and strong cultural background of the village is what enchants the tourists most. The village is slowly becoming hot as the rural tourism destination.
Important Facts :
Hodka is first believed to have inhabited around 300 years ago by the Halepotra clan.
Tourists are recommended to take the overnight camel safaris, the most famous attractions in the village.
The village is most popular for the leather work, which you can take back home as souvenir.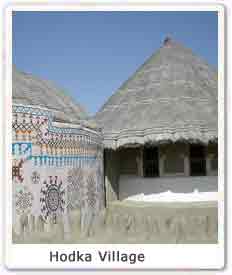 Hodka Art and Craft :
Traditional art work
Hodka village is quite famous for its art and craft work. Every hamlet in the village have their own distinguish designs and patterns. The area is famous for its leather craft. As part of the tradition every girl in the village is taught to embroider at an age when the other children usually prefer going to the school. Slowly they learn the running stitch, making purses, skirts, cholis, quilt, covers for cattle horn, door hangings, embroidered items embellished with mirrors, shells, beads and tassels and so on.
Houses of Hodka Village :
The structure and pattern of houses in the Hodka village never fail to impress the visitors. Hodka village consists of typically mud houses. The people of Hodka village use dung and natural dyes in the earth tones to decorate their houses. All the houses are nicely decorated and finely painted. They usually construct their houses using mud which helps in keeping the interior cool.
Tourists Activities :
Visit around the Village :
You can make a visit around the village accompanied by the local bhomiyas or guides, who give you the proper insight of the village. You get to learn about the lifestyle of the villagers in Hodka. Witness the making of finest embroidery work and leather craft. Converse with the families of the different artisans and discuss about their livelihood. See how the ancient people used to dig out water from the well or virda known locally.
Bird Watching :
On the excursion trip from the Hodka village head out towards the wetlands of the Chhari Dhand, where you can find the great variety of resident and migratory birds. So do not forget to carry the binoculars and video cameras along with yourself. Covering an total area of around 10 sq. km, Chhari Dhand is a home to more than 50,000 waterfowl's and 55 distinct animal species. Some of the mot endangered species recorded in the area include Dalmatian Pelican (Pelicanus crispus), Oriental Darter (Anhingia rufa), Black necked stork (Ephippiorhynchus asiaticus) and Indian Skimmer (Rynchops albicollis). Apart from
bird watching
, you can notice 32 species of raptors along with the large number of common cranes found in this region.