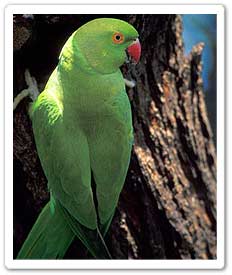 Location :
Bharatpur Bird Sanctuary and all the Major National Parks and Sanctuaries of India.
Best Time :
Any Time of the Year, but to see the Migratory Birds do come in the Winters.
Tips :
Carry a set of Binocular, Camera.
Bird Watching in India
Birds are one of the most beautiful creation of God. They have one very unique feature and that is - Flying. This feature of birds has always attracted man towards them. It also influenced man to invent gliders and then aircraft. There flying capacity allows them to migrate from one place to another, even one country to another country.
Bird Watching (Birding) trails is a very interesting adventure. Its very delightful to watch birds in different colours, shapes and size. The Indian climate and topography allows birds of different feathers to flock together in the ecosystem of India. India itself has numerous birds, which one may not find elsewhere in the world. Apart from this, the Indian winter invites many thousand foreign birds to its eco-friendly environs. India has some magnetic sights and water bodies, which are home to many thousand temporary and permanent birds every year. Birds are mostly found in the remote areas of the country. One can often come across birds like
peafowl
, parrots, kingfishers, swans, ducks,
cuckoos
, wood-peckers, humming birds, etc, in the green and remote areas of India. But, if you are a die-hard bird watcher, then visit the National Parks, Wild life Sanctuaries and some alluring Water bodies of India to see wide spectrum of birds. Be it any place, birds in India will thrill you with their sweet chirps and melodious songs.
Some major bird spotting places are :
»
Bharatpur Bird Sanctuary
, Rajasthan
»
Kumarakom Bird Sanctuary
, Kerala
»
Sultanpur Bird Sanctuary
, Haryana
»
Thattekkad Bird Sanctuary
, Kerala