Location :
Dudhsagar waterfalls are located in the district of Sanguem in
Goa
. It lies at the distance of 60 km from Margao near the Goa Karnataka border. The falls take a steep plunge 2000 feet down in the wooden mountains of the western ghats. It originates high up on the river Mandovi's watershed. You can very easily reach Dudhsagar waterfalls by hiring a taxi or a bus from Panaji or Margao. The ideal time to visit the Dudhsagar waterfall lies after the monsoons, from the month of October till December.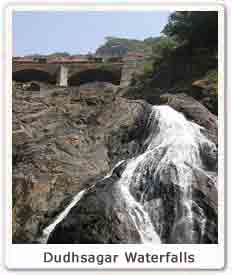 Information of Popularity :
Dudhsagar Waterfalls are listed as one of the highest waterfalls in the world. They are the fifth highest waterfalls in India. The waterfall appears as if the streams of milk are flowing down from the mountains. The name of this waterfall is referred to the Konkani name for the falls, Dudhsagar means 'Sea of Milk'.
Flora and Fauna :
Dudhsagar waterfalls are the tourists hotspot because of its sylvan surroundings. The falls are located amidst the blissful tropical jungle. Lots of naughty monkeys can be spotted on the forests tress climbing, jumping and playing among themselves. Dudhsagar waterfalls is the popular birding site among the tourists. You can carry the binoculars along with yourself to indulge in
bird watching
. You may notice lots of species of butterflies and bees at this place. Apart from the birds and animals the region holds the rich aquatic life.
While you are at the Dudhsagar Waterfalls, a visit to the Bhagwan Mahavir Wildlife Sanctuary can not be missed. It is the largest wildlife Sanctuary in India. The main attraction of the park are Royal Bengal Tigers, Barking deer, Blank Panther, bonnet macaque, common langur, civet, flying squirrel, gaur, leopards, mouse deer, pangolin,
porcupine
,
sambar
, spotted deer, wild boar and wild dog.
Swimming :
Tourists can indulge in swimming in the pools created by the fall. Swimming at these pools is extremely delightful and safe too. The water is really climb. You can even try to climb the head of the falls through the bushes falling into the pools. During the monsoons the falls become much more lively and active. The natural beauty all around the Dudhsagar Waterfalls has also made it a popular picnic destination among the tourists.
Trekking :
Dudhsagar Waterfall is famed as the
trekking
destination. It is the trekkers paradise. Tourists are recommended to wear the comfortable clothes while trekking. It is good to carry the rainy coat along with yourself. The trek passes through the lush forests, giving you the opportunity to have encounter with the wilds. You can capture the beautiful sceneries of the environment in your camera. You will be fully entertained with the calls of the jungle. You can even feed the monkeys with the bananas on the way. Beware of the poisonous snakes on the treks which could be dangerous. Otherwise trekking here is quite a fun.