Location :
Jog fall is located in the district of Shimoga in the state of Karnataka in India at the distance of about 400 kms from Bangalore. Jog is the highest waterfall in the country. The best time to plan out the trip to the Jog fall lies in between the month of August and December.
Other names of the Jog Waterfalls :
Gerusoppe falls, Gersoppa falls, Jogada Gundi are the other common names of the Jog falls.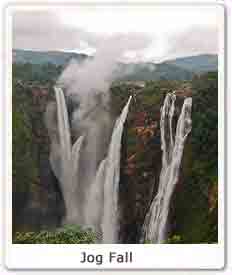 Description of Waterfall :
The Jog waterfall is formed by the River Sharavathi, which falls from the height of 259 meters. The river originates at the point called Ambuthirtha in Thirthahalli taluk. It flows in the north west direction through the western ghats forming the jog falls and in the last it merges into the Arabian Sea at Honavar. Sharavati river splits up into four tracks namely Raja, Roarer, Rocket and Rani. The highest and most dignified among the four is the Raja. The second one is Roarer. It has been named so as it creates tremendous amount of noise when it strikes with the water. The third one is rocket which consists of large volume of water flowing out of the small opening at a very high speed. The fourth one is Rani which resembles the movement of the dancing lady.
Excursion from Jog Falls :
Honnemaradu :
Honnemaradu is situated on the backwaters of the river Sharavathi. The region is beautifully surrounded by the lush greenery and is a haven for the water sports. Windsurfing, Coracling, Conoeing, Kayaking and Scuba Diving are the most popular water sports which can be practiced here. Sunset and Sunrise view from Honnemaradu or the Golden Lake are truly rewarding.
Tunga Anicut Dam :
Tunga Anicut Dam is located at the distance of 12 km from Shimoga. The dam remains open from 10 am to 5pm on all days. It is favourite picnic spot among the tourists coming to Karnataka. The main attraction among the tourists here is the boat riding in the lake. You can also make a visit to Sacrebyle, an elephant camp near the dam. The camp is a home to several elephants.
Lion Tiger Reserve :
Lion Tiger Reserve located at the distance of 10 km from the district of Shimoga, gives you the Golden opportunity to enjoy the Lion safari. The park is home to several other animals such as
Royal Bengal Tiger
, Cheetah, deer, bear and
Gee Golden langurs
. You can also carry the binoculars along with yourself as the park offers the excellent birding site.