Location :
Nanda Devi, which means 'blessed Goddess' is the highest mountain in India. The two very popular glaciers - Nanda Devi north and Nanda Devi south originate from the southern most slope of the Nanda Devi peak. The length of each glacier measure approximately up to 19 kms. Some of the other important glaciers in the lapse of Nanda Devi include Trishul, Kurumtoli, Nandakna, Bartoli, and Ramani. These glaciers lies in the regions of Kumaon and Garhwal in the state of
Uttaranchal
in Indian
Himalayas
.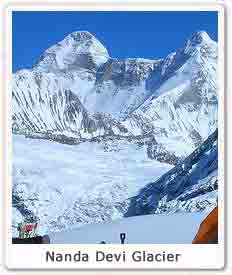 Trekking :
Also popular as the
trekking
paradise, Nanda Devi is the must have trekking experience for any trekking enthusiast. The trek begins from Munsyari (2290 meters), which is on the arterial water body of the Goriganga. The trek provides the magnificent view of the peaks of the Panchchuli range. On the way you will pass through the several villages such as Martoli and Rilkot, small traditional bazaars, and open valleys making trekking at Nanda Devi a life time experience. The Martoli village is the one of the centers of the Jauher valley, it consists of atleast 150 years old houses, representing the ruins of the history of the Indo Tibetan trade. The rich natural beauty and exotic flora and fauna on the way mesmerizes you as well as provides you the most thrilling experience one can have. As the treks are long, trekkers are advised to keep sufficient supply of suitable clothes, comfortable shoes and necessary camping goods.
Flora and Fauna :
The flora around the Nanda Devi consists of rich vegetation of fir, birch, rhododendron and Juniper. There are total 312 floral species that are found in this area, out of which 17 species are considered as rare. The area also provides the spectacular wildlife, carefully preserved in the Nanda Devi National Park, surrounded by the peaks from the three sides and gorge on the fourth side. The interesting wildlife of the park includes bharal,
Himalayan tahr
, serow, goral, snow leopard, Himalayan black bear, brown bear, leopard, common langur, Himalayan musk deer, and brown beer. There are 14 species of mammals, out of which 6 are declared as highly endangered. The park is also provides good birding site for the bird lovers. Some of them include crested Black Tit, yellow-bellied Fantail Flycatcher, orange-flanked Bush Robin, blue fronted Redstart, Indian Tree Pipit, Vinaceous Breasted Pipit , Common Rosefinch and Nutcracker.
Excursion from Nanda Devi Glacier :
Tourists can also make a excursion trip to the near by areas which include Joshimath, Valley of Flowers, Badrinath, Hemkund Sahib and many more. You can also make a visit to the famous Millam glacier, quite famous among the trekking lovers. Apart from these there are several villages nearby, popular for the simplicity of the people.