The Naga Manipuri Chin Hills moist forests are of great size and bio diversity. The forests provides the fascinating sights for the nature lovers. This global renowned eco region comprises of Northern Triangle subtropical forests, Mizoram
Manipur
Kachi rain forests, Chin hills Arakan Yoma montane forests, Meghalaya subtropical forests, and Northest India Myanmar pine forests. The Naga Manipuri Chin forests are quite dangerous and unique in their bio sphere. So far they are one of the most alluring and attractive eco places remaining on earth.
The appropriate climatic conditions helps the the region boosts of its rich variety of vegetation, with high density of flora and plentiful number of species. These forests remain wet althrough the year and there are several areas in the forests which receive more than 36 feet of rainfall in an year. There are more than 300 species of medicinal plants so far noted in these areas.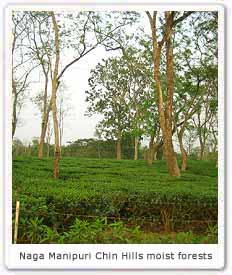 Birds Wonderland :
The Naga Manipuri Chin Hills moist forests are the
birding
paradise, quite appealing to the serious birder as well as the beginner bird watcher. The spectacular variety of bird life is spotted in these forests include Blyth's tragopan (Tragopan blythii), Brown-capped laughingthrush (Garrulax austeni), Long-tailed wren-babbler (Spelaeornis chocolatinus), Rufous-capped babbler (Stachyris ruficeps), Broad-billed warbler (Tickellia hodgsoni), and White-browed nuthatch (Sitta victoriae). To enjoy birding in this area you are required to carry fine quality of binocular along with yourself. You are requested to maintain utmost silence in the area. Shooting birds is strictly prohibited in the area. Do not disturb the birds or even try to frighten them in any way.
Wildside :
Apart from the amazing bird species, these forests are home to some of the rare and endangered species that are found no where else in the world. Wildlife spotting is the very kind of its fun and on the eco tour to the Naga Manipuri Chin Hills moist forests you can't simply miss it. Important mammals in the forests include
Tiger
(Panthera tigris),
Hoolock Gibbon
(Hylobates hoolock), Red Panda (Ailurus fulgens), Sun Bear (Ursus malayanus), Clouded Leopard (Pardofelis nebulosa), Gaur (Bos gaurus), Thamin (Cervus eldii), Leopard (Panthera pardus) and many more.
Tribal Population :
Naga Manipuri Chin Hills moist forests are the home to the many tribal communities including Aimol, Anal,
Angami
, Chiru, Kacha Naga, Mao, Chiru, Chothe, and kuki Chin. They have their own distinguished languages, customs and traditions. These indigenous people are still dependent on haunting and other forests produce for their daily bread. They posses the deep knowledge about these forests and the exotic wildlife of these jungles.
Severe Threats :
Frequent forests fires, logging and deforestation are the major threats to the natural habitats of the several endangered species in these forests. Illegal business of poaching is going on in the forests at the rapid rate, which has brought about the extinction of some of the important mammal species. Shifting cultivation, clearing of the forests and human expansion are the another reason of concern for the forests.