Geographical Location :
Nanda Devi rises in Uttarakhand, India, at the height of 25,643 feet. Nanda Devi is the second highest peak in the world.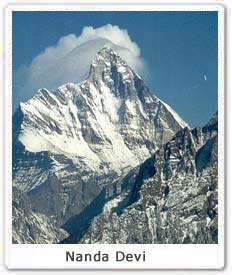 Religious Significance of Nanda Devi :
Nanda Devi is considered as the deity and is worshiped among the locals of the region. According to the legends, Nanda Devi was the daughter of the local king. A marauding king wants to marry her. When Nanda devi father refused to do so, he declared war against them. Her father was killed and she somehow escaped. She found refuge on the mountain, now named after her. Till then she is protected by the ring of mountains containing 12 peaks.
Tourists Activities :
Wildlife Exploration :
Tourists can make a visit to the Nanda Devi National Park, famous for its rare species of animals. The park has been notified as the UNESCO World Heritage Site. Fir, birch, rhododendron and juniper contribute to the rich floral system of the park. Tourists can indulge in nature walk or can for the wildlife safari along with the forest officer. The main attractions of the park include Brown Bear, Bharal, Common Langur, Goral,
Himalayan Tahr
, Himalayan Black Bear, Himalayan Musk,
Indian Leopard
, Serow and snow leopard. Apart from this the avifaunas of the park include Grosbeaks, Rose Finches, Ruby Throat, and Warblers.
Trekking :
Trekking at Nanda Devi provides you the fascinating view of the snow capped peaks, exotic waterfalls and high altitude flora and fauna. The trekking starts at the point called Munsyari (2290 meters) and finishes at Malari in Garhwal Himalayas. Trekking at Nanda Devi takes you some of the remote villages like Rilkot and Martoli. Rilkot and Martoli have houses that are atleast one hundred and fifty years old reminding every one of the extent of the of Indo Tibetan trade through the silk routes. Before planning out the trekking tourists are recommended to have the medical test and are requested to carry all the essentials along with themselves.
Nanda Devi Mela :
Every year Nanda Devi mela is held at the Nanda Devi temple in the month of September. On this particular day people of this region pay homage to the Goddess Nanda Devi. This mela was started during the region of Raja Kalyan Chand in the 16th century.
Tourists Attractions :
Nanda Devi Glacier :
Located in the Rishi Ganga River catchment, Nanda Devi north and Nanda Devi south are the two glaciers, which are approximately 19 km in length. The
Nanda Devi glaciers
originating from the southern slope of the Nanda Devi peak are the treat to the tourists eye. Several streams originate from these glaciers and forms the river Rishi Ganga.