Place :
Kheri District of Uttar Pradesh, along Indo-Nepal Border.
Major Attractions :
Most eminent spot here is a Swamp Deer or Barasingha. Tigers and one horned Indian Rhinoceros are other important animals here.
Area Covered :
About 811sq. Km. (core area of 648 sq km).
Ideal Time to Visit the Park :
February to April. The park remains closed from 15th June to 15th November.
Nearest Attractions :
Palia (10km.)
Some Major Accesses :
Air-Lucknow (250 km) and a drive from Delhi (8 hours)
Things to Know
Where is the Dudhwa National Park
With exceedingly diverse and cogent natural surroundings, Dudhwa National Park sets in Lakhimpur-Kheri district of Uttar Pradesh. Dudhwa is a tiger reserve park sprawling over an area of 614sq. km. The park is enclosed by Indo-Nepal border on its northern end while at the southern edge is River Suheli. One of the fines eco parks of India, Dudhwa houses a large number of endangered species including Tigers, Leopards, Swamp Deer, Hispid Hare, Bengal Florican etc.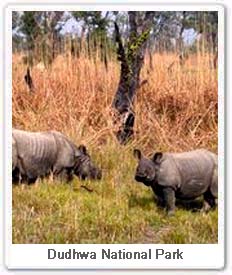 The Climate in the Dudhwa National Park
Dudhwa experiences extreme climates. Summers are sweating hot. Temperature during summers rise upto 40 degree centigrade. Winters are chilly with temperature ranging between 20 degree to 30 degree centigrade. The average annual rainfall recorded ranges around 16cm. For there are two extreme climates observed here, we recommend tourists bring their clothes accordingly. For summers, light cottons can be easily worn but for winters, you must bring light woolens in colors that do not scares animals.
Important Dates in the Dudhwa's History
Earlier known as Sonaripur Sanctuary, there was marked decline recorded in number of Barasingha population. In 1958, for the conservation of this rare species, this wilderness sanctuary was upgraded to be named as Dudhwa Sanctuary. In 1977, the area of the park was further increased and it was renamed as Dudhwa National Park. After eleven years of its upgradation, Dudhwa became one of the centers of Project Tiger wherein, the area of Kishanpur Sanctuary was also added to this National Park to create Dudhwa Tiger Reserve.
The Ecological System in the Dudhwa National Park
The Flora in Dudhwa National Park
On the foothills of Himalayas, Dudhwa National Park has extensive stretches of thick sal forests, grasslands and wet marshes. All stand in a perfect setting that best harbors a wide range of flora here. The reminiscent forests of the park cover a wide area with termite mounds and patches of reverie trees, forming the flora at this National Park.
The Fauna in the Dudhwa National Park
Notable variety of rarest species of fauna can be found at Dudhwa National Park. The fascinating wildlife here includes, sloth bear, ratel, civet, jackal, leopard cat, fishing cat, jungle cat, spotted deer,
hog deer
and barking deer. Most interesting and rarest spot among all the animals here is
Hispid Hare
which is a dark brown animal with bristly fur and was believed to have extinct but rediscovered in 1984. This animal is of great interest for wildlife conservationist. Another important animal here is one horned Indian Rhinoceros. It is one of the conserved animals in the park.
The Avi-fauna in the Dudhwa National Park
Dudhwa is a paradise for bird lovers as it offers more than 400 species of birds. Since the park is situated on the foothills of Himalayas, surrounded by a large number of swampy grounds and lakes, it is a cool resting place for migratory birds. If you are a keen bird watcher, we can recommend Banke tal here where you can easily spot vivid birds of the park. Some of the important birds here include: egrets, cormorants,
grey heron
, ducks, geese and teal. You can also visit Dudhwa for an extraordinary variety of owls: great Indian horned owl, the brown fish owl, the dusky horned owl, scoops owl, jungle owlet, the brown wood owl and tawny fish owl. Colorful birds - varieties of woodpeckers, barbets, minivets, bulbuls,
common kingfishers
, bee eaters, orioles, drongos and hornbills are all part of its rich bird life.
Safaris in the Dudhwa National Park
Jeep & Elephant Safari
Riding through the park with elephant trainers can be great fun. Since most of the area has marshy swamps, the most convenient way to move around the park is a ride on elephants back. With a nominal charge, you can move around the park in complete natural way. Jeeps are also available to cut through tedious and slow elephant rides.
Dudhwa National Park Travel Circuit
Delhi-Lucknow-Kishanpur-Dudhwa.
How to Reach the Dudhwa National Park
Air :
Lucknow, Dhangarhi (Nepal, 35 km.) are the nearest Airports.
Rail :
Dudhwa (4 km.), Palia (10 km.), Mailani (37 km.) are the railway stations located adjoinin to this place.
Road :
Drive from Delhi (8-9 hours) or take the train to Shahjehanpur and drive to Dudhwa (3 hours). Alternatively fly to Lucknow and drive to Dudhwa (245 km, 6 hours).