Place :
Forest belt between the Western Ghats and the Nilgiri Mountains, in the extreme west of Tamil Nadu, Southern India.
Major Attractions :
Tigers, Sloth Bear, Spotted Deer and Leopards.
Area Coveredrea :
300 sq. km.
Ideal Time to Visit the Park :
Mudumalai Wildlife Sanctuary can be visited from April-June and September-December.
Nearest Attractions :
Ooty (64km) and Coimbatore (160km).
Some Major Accesses :
Coimbatore, Bangalore.
Things to Know
Where is the Mudumalai Wildlife Sanctuary
Mudumalai wildlife sanctuary sets in South Indian state of Tamil Nadu. Madhumalai means old hills ans interestingly sets amidst Bandipur and Annamalai sanctuaries. At an elevation of 1000m, it sprawls over an area of 321 sq. km. This wildlife sanctuary lies between Kerala and Karnataka. A mix of low hills, valleys and flat terrain sprinkled with a few swampy areas forms the terrain here. With largest elephant population of about 600, this is one of the famous wild life sanctuaries in Southern India.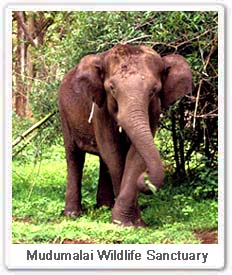 Important Dates in Madumalai's History
In 1940, Mudumalai was established as a wildlife sanctuary as an extension of Bandipur National Park. It was former erstwhile gaming reserve which was a famous hunting ground for Britishers who stayed at Ooty. The sanctuary saw an onslaught of gaurs during an epidemic that hit this area. There are few hunting sites within the park and government keeps a strong vigil on the activities taking place inside the Sanctuary.
Climate at Mudhumalai Wildlife Sanctuary
Madurai experiences pleasant climate throughout the year. From October to March, the mercury level is recorded 20 degree centigrade and are winter months here. Summer months are from March to June when the temperature rises upto 30 deg. Centigrade. From July to September is a pleasant time with temperature being around 24 deg centigrade. Visiting Madhumalai during summer months can be a good time to spot tigers as they come at water pools within the sanctuary to fill their thirst.
The Ecological System in the Mudumalai Wildlife Sanctuary
The Flora in the Mudumalai Wildlife Sanctuary
Madhumalai experiences tropical moist decidous vegetation towards western parts of the sanctuary. Dry-decidous and thorn scrub along the cast supports blaclbuck population. The flora at this park includes: Bamboos, Natural teak, Anogeissus latifolia, Terminalia, Crenulata/Terminalia Tomontosa, Grewia, and blooming trees like Indian Labumusum, Aredesia, Solanancea etc .
The Fauna in the Mudumalai Wildlife Sanctuary
There are two types of fauna found here: mammals and bird raptors. Among the mammalian population, Asian Elelphants, Barking deer, Musk deer, Gaur(Indian Bison), Sloth Bear, Giant Squirrel, Sanibar, Spotted Dear, Chowsingha,
Indian Pangolin
,
Leopard
, Wild Dog, Rusty Spotted Cat and Striped necked Mongoose are easily spotted animals. The bird raptors include: Changeable Hawk Eagle, Black Eagle, Oriental Honey-buzzard, Jerdon's Baza, Bonelli's Eagle, Crested Goshawk, Besra, Mottled Wood Owl, Brown Hawk Owl.
The Avifauna in the Mudumalai Wildlife Sanctuary
You can spot diverse variety of birds at Mudumalai Wildlife Sanctuary. Grey Junglefowl, Red Spurfowl, Grey Francolin, Emerald Dove, Green Imperial Pigeon, Pompadour Green Pigeon, Grey-bellied Cuckoo,
Indian Cuckoo
, Alpine Swift, Black-hooded Oriole, Greater Racket-tailed Drongo, Black-headed Cuckooshrike, Painted Spurfowl, Painted Bush Quail, Whitebellied Woodpecker, Lesser Yellownape, Greater Flameback, Streak-throated Woodpecker, Chestnut-headed Bee-eater, Grey-headed Bulbul, Forest Wagtail, Crimson-backed Sunbird, Loten's Sunbird forms the avi fauna population here.
The Safaris in the Mudumalai Wildlife Sanctuary
A safari tour to Mudhumalai Wildlife Sanctuary can be very interesting. The guides here know their animals by heart. Each lion, each elephant and each bison has its name assigned by these guides. Try insist your guide to have a deeper look into the wildlife and he will take you to some of the unbeaten paths in the sanctuary. You can sit on the elephant back and have an enthralling trip around the park.
Mudumalai Wildlife Travel Circuit
Bangalore - Mysore - Ranganathittu - Nagarhole - Bandipur - Mudumalai - Ooty - Cochin - Periyar - Varkala - Trivandrum
How to Reach Mudumalai Wildlife Sanctuary
Air :
Coimbatore is the nearest airport to access Mudumalai via air route. Private coaches or cabs can be hired from the taxi stand outside the airport to reach Madhumalai.
Rail :
Mettupalayam is the nearest broad gauge rail head, located 46km from Mudumalai.
Road :
Accessing Mudumalai via road is not very difficult. Regular bus service from Bangalore, Mysore, Coimbatore, Calicut, Kanyakumari, Tanjavur, Tirupati, Cochin, Kotagiri, Udhagamandalam, Coonoor and Doddabeta is available which are destined to Madhumalai Wildlife Sanctuary.