Place :
Chandaka Forest, 25-km from Bhuvneswar, Orissa, India.
Major Attractions :
White Tiger, Black Panthers & Gharial Crocodiles.
Area Covered :
14 sq km.
Ideal Time to Visit the Park :
October to March.
Nearest Attractions :
Madikere, Bandipur National Park, Madhumalli.
Some Major Accesses :
Bhuvneshwar (20km), Kolkata.
Things to Know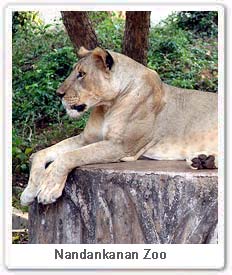 Where is the Nandankanan Zoo
Better known as "Garden of Pleasure"; Nandankanan Zoo is situated 20km off Bhuvneshwar in Orissa. As part of Chandaka Forests here, the zoo is a perfect escape destination from hustle bustle of the city. The zoo lies on the lines of Kolkata-Chennai railway line and is very close to Barang Railway Station. With 362 hectares of forest area, Kanji Lake occupies a significant portion of 66 hectares. The first ever breeding ground of endangered species, Nandankanan Zoo boasts of the significant contribution that the park has made in wildlife conservation.
Climate at Nandankanan Zoo
Summers are hot here with a maximum mercury level recorded being 40 degree centigrade. Winters are cooler and pleasant time to visit this park. The minimum temperature recorded during winters remains around 14 degree centigrade. With the onset of monsoons, the park experiences heavy rainfalls and makes most of its area inaccessible. You should try avoid visiting this park during monsoons as roads get washed out.
Important Dates in Nandankanan' History
This magnificent zoo in Orissa was established on 27December, 1960. The most important year in the history of this zoological park is 1980, when the regal white tiger received a new lease of life. Ganga and Deepak were the two tigers that were born to make this year much jubilated for all. At present there are about 34 tigers that are found here. In 1991, the tiger safari was established at this park in order to provide an enthralling view of the tigers from behind the protected bushes.
The Ecological System in the Nandankanan Zoo
The Flora in the Nandankanan Zoo
Nandankanan is a home to various flourishing varieties of flora. The splendid environs of Chandaka forests and ripling waters of Kanjia Lake forms flora here. Giving it a gardening beauty are the flowers here. The zoo is thickly densed with trees like Bija, Sal, Asana and Anala.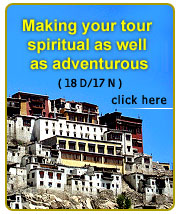 The Fauna in the Nandankanan Zoo
Nandankanan is world renowned for its white tigers. This internationally recognized zoo is home to a large number of animals which are on verge of extinction. Animals like Rhino, Manipuri Deer, Wild Ass, Tigers, Himalayan Black Bear, Lion Tailed Macaque, Chimpanzees, Orangutan, Hippopotamus, Zebra, Mouse deer,
Blackbuck
and Chousinga are most eminent. There are about 21 species of reptiles that can be found here.
The Avifauna in the Nandankanan Zoo
Nandankanan is a bird watcher's paradise. There are about 59 species of birds that are found at this park.
Peafowl
and White necked stork are the two birds that enslave wildlife enthusiasts with their bewitching beauty.
The Safaris in the Nandankanan Zoo
Lion Safari tours offered at this park enthrall the visitors at this park. Jeeps and elephants are also available on hire to have a ride through the park. Have a view of majestic wildlife of this park through its Safari tours.
Nandankanan Zoo Wildlife Travel Circuit
Bangalore - Mysore - Ranganathittu - Nagarhole - Bandipur - Mudumalai - Ooty - Cochin - Periyar - Varkala - Trivandrum
How to Reach Nandankanan Zoo
Air :
Bhubaneswar Airport, 20km.
Rail :
Bhubaneswar is the nearest railway station from the zoo.
Road :
Bhubaneswar is well connected to other parts of the state. Innumerable buses are available from Bhuvneshwar that enroute to Nandankanan.