Major Location :
Himalayas
, Himachal Pradesh, Kerala.
Best Time :
Any Time of the year, depending on the location you choose.
Tips :
Biking Equipment are provided by the Biking Organisers. The equipment you will require are - Cycle, Cycle Helmets, Rucksack, Sleeping Bag, Carry Mat, Torch Water Bottle, Emergency Ration, Medical Kit, Tents, etc.
Biking
Riding a bicycle / bike has always been a pleasure for a person who loves adventure and sports. And, when it is done amidst the luxurious surrounding then, it becomes more delightful. The exquisite and varied topography of India offers a wide scope for Biking. Be it the mountain ranges of the Himalayas or the south Indian mountainous treks, Biking is always a pleasure in India. Another good things about biking (Bicycle) is, it does not emit any form of pollution as other means of transportation. Hence, it is good for our ecosystem too, as it does not harm the environment.
Biking is like climbing on a
mountain
but with the help of a bike. Whether you are riding on a smooth surface or a hard one, mountain biking provides you a fantastic drive, so conquering the endless climbs and then slide is a matter of a sheer skill, strength & spirit.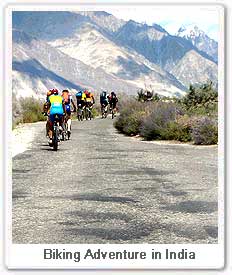 Biking in the Himalayas
If you are looking for the enthusiasm of challenging the climbs and some of the best sliding for mountain biking in the world then head for the Himalayan ranges in India. Set amongst ever-changing and luxuriously booming scenery, Himalayan Mountain ranges offers some hard to beat tracks for the adventure lovers. Most of these mountain bike tours here involve some single track riding and asks technical skills. The biggest attraction is of flying down tricky terrains, but if you want to choose the terrain region be sure that you are skilled enough to ride over there. Off - road trips are cheaper because they involve camping or stays in fairly off beaten path accommodations. In general, mountain biking trips focus on those who are born to be wild.
Some of the Mountain Biking Treks in Himalayan Mountain Ranges :
Kufri- Narkanda- Sungri- Jeori- Sangle- Karcham- Bhawanager- Sainj- Basantpur- Shimla
Kufri- Narkanda- Shemsher- Ghiagi- Koti- Chattru- Takcha- Rangrik- Tabo- Chango- Powari- Jeori- Sungri- Tiuni- Nerwa- Paonta Sahib
Kufri- Chaba- Kingal- Kelodhar- Alsindi- Basantpur- Kufri
Kufri- Narkanda- Nankhari- Sungri- Tiuni- Lakhawati- Paonta sahib
Mountain Biking in Himachal Pradesh over Jalori Pass (3223 mt)
The Biking in the Himachal Pradesh is truly a mind-boggling experience. The entire Himachal Pradesh is appealing as well as adventurous. The terrain of Himachal Pradesh is a challenging one. But the friendly ecosystem here makes biking an absolute satisfaction.
Some of the Biking Treks in Himachal Pradesh
Nalagarh-Manali by surface (255 km)
Manali
in Himachal Pradesh is at an altitude of 1896 m above sea level and situated at the northern end of Kullu valley. Manali is a picturesque little town, and is the most popular place in Himachal Pradesh. It is typical small town bustling with activity during the summer season. Around Manali, nature has lavished the region with forests, waterfalls, green slopes rivulets and souring snow-covered mountain peaks. Biking through this treks is a special experience.
Manali-Solang Valley-Manali (26 km)
A bike to Solang Valley is just unique. It is uphill ride from Manali to Solang.
Manali-Naggar-Kullu (42 km)
Biking to Kullu via Naggar on left bank of Kullu Valley is another Biking option in Himachal Pradesh India. The Beas Valley, its luxuriant atmosphere is very special.
Kullu-Larji (34 km)
You can explore the temples of Kullu and afterwards bike to Aut along the river Beas. On the way you can visit the Old Shiva temple at Bajaura.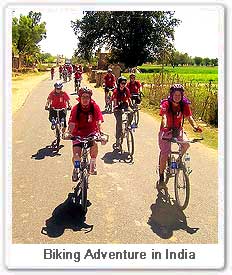 Larji-Shoja (38 km)
Ride along the river Tirthan upto Banjar. Up to Aut it's a level ride and thereafter a soft ascend upto Banjar. From Banjar an ascend to Shoja. Shoja village is surrounded by a dense forest (2683 mt).
Shoja-Kahnag over Jalori Pass (3223 mt) (29 km)
Start after breakfast. The road ascends gradually up to Jalori pass (3223 mts). This trek will take you to crystal clear Serolsar Lake and beautiful mountain ranges.
Khanag-Narkanda (2708 mts) (55 kms)
Ride here offers excellent surroundings, abundant with thick green forests.
Narkanda-Shimla (2205 mts) (64 kms)
Apart from green surroundings, this route will take you to a mini Zoo famous for Himalayan Bears.
Biking in South India
The South Indian region does provide some excellent treks for Biking. The green fields and the tea & coffee plantation areas are some of the best places, where you can fulfill your Biking desire. These place with luxuriant surroundings are the best places for Eco-Biking, as these regions will provide you clean and pure ambience through out your tour. The mountain biking tour along some of the most beautiful mountain roads in South India show the true meaning of adventure. Ascending and descending through the windy trails of mountainside tropical rainforests and grasslands to emerge into the beautiful tea estates along the way. Along the route you will come across spices plantations like cardamom, pepper, vanilla and coffee which has made this place famous all over the world as the spice capital of the world.
Some of the Best Biking Treks in South India :
Cochin-Munar-Chinnakanal-Vandanmedu-Periyar-Murinjapuzha-Vagamon-Erattupetta-Kottayam-Kumarakom
Best Season : October to March
The agreeable climate, thick forest patches & tea gardens, crisscrossed by mountain streams are indeed some refreshing sight in south India. You can also give a visit to the wildlife sanctuaries of Periyar, known for the Tiger conservation or also go for a trip to Rajamalai for watching the endangered Nilgiri Tahrs.
Some of the most spectacular sceneries in south India will include the Lake, cardamom forests & winding village roads along mountain tracks. The rolling grasslands of the foothills of the southern Indian mountain ranges – called High Ranges here. The route takes through rolling grasslands & roads that are most of the way downhill. The journey trek here also include a different eco-system – that of rubber & spice plantations of Central Kerala.
In between the treks you will also get the opportunity to acquaint with the local culture and tradition. The beautiful backwater roads, villages set amidst the estuaries & lagoons and the simple lifestyles of people along the way will surely delight you.