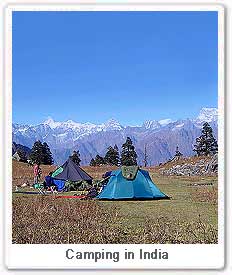 Major Location :
Himachal Pradesh,
Uttranchal
.
Best Time :
Any Time of the year.
Tips :
Be sure to take a camera and perhaps binoculars. You never know what you might see.
Camping in India
Relaxing in the lap of the natural amidst the natural surroundings. Camping is an activity that can temp any nature lover, especially if one gets a chance to go camping in the extreme Himalayan regions of Himachal. The luxuriant land of Himachal gives one a chance to enjoy the amazing beauty of the mountain lands in its originality.
Camping is probably the most ideal way of enjoying the beauties of nature. The
Himalayan
region in India is one such place. The entire Himalayan region offers fantastic range of camping. Whether you choose wildlife camping or normal camping, Indian topography will fully thrill you. There is not much difference between the wildlife camping and normal camping, except the wildlife camping doesn't get confined to season or any adventure activity. Camping is a recreational activity and there isn't any age limit in camping. People one who likes to explore nature and keeps interest in the facts of the nature can take up this camping expedition.
The Himalayan regions are an excellent respite for tourists and people who want an escape from the hot sultry conditions of the plains.
Some Camping Sites in India
Camping in The Himalayas :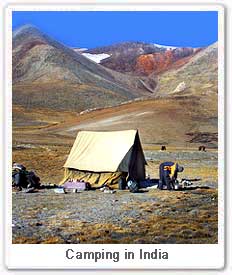 This includes the region of the Himachal Pradesh. Camping doesn't need too much of the equipment, except some essential every requirements and tents. But, if you are interested in some other activities during camping, then you may require some. The camps at Himachal Pradesh offer accommodation, catering and a variety of activities like hikes,
fishing
, nature-tours and rafting. Himachal Tourism has camps organised at Sarchu in Lahaul, and in addition to built- accommodation, tents are available at Sangla and Kalpa in Kinnaur, and at Kaza in Spiti.
Camping In Nainital :
Nainital
is one place where you can enjoy outdoor wildlife camping. Amidst the northern regions is Chitrauli, situated near the hill station of Nainital in Uttaranchal and is regarded as a prime trekking paradise in this region, where nature lovers can behold the panoramic views of the Himalayas and the Ratighat Valley with the Ghuna River in between.
Chitrauli is bountiful with beautiful flora and fauna offering plenty of opportunities to Naturalists, Trekkers, Painters and Bird watchers to try out their favourite adventure activity over here. The wild recreation camps of Chitrauli will take you to a little off beaten natural treks between the Oaks, Deodars and Pine trees. The camp here provides a delightful escape from the pollution and disturbance of the cities.
Camping in Other Regions :
There are numerous other places in India where you can go for camping with your family and friends. Among the foremost camping trips that one can take up are ones the hilly regions of Garhwal and Kumaon in Uttaranchal and Himachal Pradesh. Some of the favourite camping destinations in India include
Mussoorie
, Rishikesh, Chilla, Corbett National Park, and Kaudiyala in Uttaranchal.