Kumarakom Backwaters are the group of islands on the
Vembanad Lake
in the state of Kerala in India. It is located at the distance of 16 km from the district of Kottayam. This beautiful water world is paradise of mangrove forests, emerald green paddy fields and coconut grooves. It is a destination of great natural beauty and you are sure to be enchanted by the beautiful scenery around the Kumarakom backwaters on the tour to Kerala.
Tourists Activities :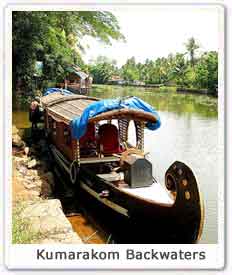 Kumarakom Backwater Cruises :
Backwater cruise on the leisure boat at Kumarakom is surely a lifetime experience. Emerald palm and coconut trees on the either side of the waterways provides a fascinating foray through the Kumarakom Backwaters. These houseboats have got all the excellent facilities, keeping in the view the needs of every individual tourists. A stay in the houseboat called Kettuvallom is simply unparalleled. Acitvities like boat races, canoing and fishing is something which no visitors wants to miss out.
Kumarakom Bird Sanctuary :
Located on the bank of the Vembanad Lake, Kumarakom Bird Sanctuary, spreads to the total area of 14 acres. If you are the bird lovers than this is the best place to watch some of the rare and endangered species of birds in their natural habitat. It is simply an ornithologist's paradise. It is a favourite haunting ground of the several migratory birds such as Siberian stork, Darter, heron, egret, and
Garganey teal
. Apart from that the major attraction in the park include Waterfowl,
Cuckoo
, Owls, Water ducks, Parrots, Larks, Flycatchers, Wood Beetle and many more.
Tourists can indulge in
bird watching
, nature walk in jungle and can even feed the birds with the grains. The best way to watch the birds is to take a boat ride on the islands. Passing the time with an angler's hook on the boat is the best way to spend your time in Kumarakom backwaters.
Ayurveda :
Tourists from all around the globe come here for the Ayurveda treatment massage. It is the best way to relax and feel yourself at ease in the calm and tranquil atmosphere of Kerala. Apart from ayurveda you can also attend yoga and meditation classes in the morning.
Tourists attractions :
Pathiramanal Island :
Tourists can make a visit to the little island of Pathiramanal, which can be reached by taking a ferry from Kumarakom. Pathiramanal is a favourite haunt for hundred of migratory birds from different parts of the land. The island is beautifully surrounded by the Vembanand Lake. The island is a complete paradise that mesmerizes the visitors with its immense natural beauty. Pathiramanal is wonderful place for the natural lovers, attracting thousands of tourists around the globe.