Place :
Kottayam, Kerala, South India.
Major Attractions :
Local birds like the waterfowl, cuckoo, owl, egret, heron and the water duck, as well as the migratory Siberian cranes. Parrots, teal, larks, flycatchers, wood beetle, and other birds are seen here during their respective migratory seasons.
Area Covered :
101 acres.
Ideal Time to Visit the Park :
Between June and August. You can watch migratory birds in the months between November and February.
Nearest Attractions :
Vembanad Lake
Some Major Accesses :
Cochin.
Things to Know
Where is the Kumarakom Bird Sanctuary?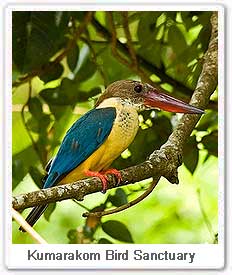 Kumarakom Bird Sanctuary is located 12km from Kottayam in Kerela. Among the finest bird sanctuaries in India, Kumarakom is situated on the banks of Vembanand Lake. Well renowned for its avian population, Kumarakom offers a range of bird watching spots for avid bird watchers. Sprawling over a wide expanse of 101 acres, the enchanting wooded beauty of the sanctuary lures a large number of foreign visitors. Most interesting is the time when Siberian Cranes visit this sanctuary.
Climate at Kumarakom Bird Sanctuary
Kumarakom Bird Sanctuary enjoys tropical climate throughout the year. There is moderate temperature throughout the year. Cool and fresh breeze makes even warmest months bearable. Temperature is cool between November and March and is best time to watch migratory birds in a pleasant setting.
The Ecological System in the Kumarakom Bird Sanctuary
The Flora in the Kumarakom Bird Sanctuary
A large number of mangrove forests cover most of the area here. Green paddy fields and coconut grooves provide a perfect home to birds. The flora of this rugged terrain adds colors to this picturesque bird sanctuary.
The AviFauna in the Kumarakom Bird Sanctuary
The sanctuary is a home to most of the avian species. Some of these permanently live and dwell here while there are other species of birds that migrate here from far off continents. Migratory birds which visit the sanctuary every year are Siberian Cranes,
Indian Peafowl
, Egrets, Darters, Herons, Parrots, Larks, Flycatchers, Wood Beetles and Teals. Resident bird species include Waterfowls,
Cuckoos
, Owls, Egrets, Herons and the water duck.
Kumarakom Bird Sanctuary Travel Circuit
Cochin - Munnar - Periyar - Alleppey - Kumarakom - Kochi
Bangalore - Nagarhole - BR Hills - Bandipur - Ooty - Munnar - Eravikulam - Periyar - Kumarakom - Kochi
How to Reach Kumarakom Bird Sanctuary ?
Air :
The Cochin International Airport is the nearest one, which is at a distance of 70 kms from the Muhamma boat jetty.
Rail :
The nearest Rail head is at Kottayam which is connected to all the major cities of India by several express trains.
Road :
Kottayam is 14 km from Kumarakom and connected to rest of the country of India by both State Highways and National Highways. From here taxis and auto rickshaws are available for reaching the sanctuary.