Place :
Ernakulam, Kochi, Sothern India.
Major Attractions :
Malabar Grey Hornbill, Crimson-Throated Barbet, Bee-Eater.
Area Covered :
128 sq km.
Ideal Time to Visit the Park :
September - June
Nearest Attractions :
Bolgatty Island, Willington Island.
Some Major Accesses :
Aluva (48km.)
Things to Know
Where is the Thattekkad Bird Sanctuary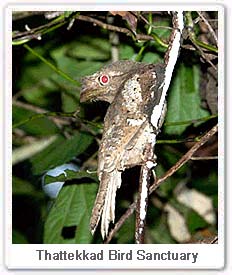 Thattekad Bird Sanctuary is located at Latitude 76deg. 40'-76 deg.45'N and Longitude 10deg. 7'-11 deg. E. The bird sanctuary is located in Kothamangalam Taluk of Ernakulam district on the northern banks of the Periyar river. At the height of 35-523m above the sea level, this marvelous bird sanctuary is situated at Njayqapilli peak. 13 km north east of Kotyhamangalam, Thattekkad Bird Sanctuary is a home to some of the rarest species of birds in India.
Climate in the Thattekkad Bird Sanctuary
Thattekkad Bird sanctuary experiences a tropical climate. The annual rainfall recorded here is round 3000mm. The weather remains pleasant throughout the year while monsoon hits this place in the months between May and July. It would not be recommendable to visit this park during monsoon as most of the area here becomes inaccessible.
Important Dates in Thattekkad Bird Sanctuary' History
Thattekkad is Kerala's first officially recognised bird sanctuary. Established in 1983, the lush green sanctuary has more than 300 recorded species of forest and water birds. While many of them are resident birds, some are migratory. Important birds found here include large falcon, gray jungle fowl, white breasted water hen, hornbill, jungle bush-quail, etc. A study conducted by Bombay Natural History Society during 1985 identifies 253 species here.
The Ecological System in the Thattekkad Bird Sanctuary
The Flora in Thattekkad Bird Sanctuary
Thattekkad Bird Sanctuary Thatekkad Bird Sanctuary is located in the dense tropical evergreen and deciduous forests and grassland patches. The picturesque landscapes here makes it a choicest bird sanctuary for those who love being close to nature. Thattekkad also has extensive plantations of teak, rosewood, mahagony, etc. A variety of flowers and tress combine to form the bewitching fauna at this wildlife park.
The Fauna in the Thattekkad Bird Sanctuary
Thattekkad is famous for its exclusive bird life. Among the animals found here, elephant is an occasional visitor. Leopard, bear,
porcupine
, python and cobra can also be sighted here.
The Avifauna in the Thattekkad Bird Sanctuary
Rare birds like the Crimson-Throated Barbet, Bee-eater, Sunbird, Shrike, Blackwinged Kite,
Grey Heron
and the Night Heron are also commonly sighted.
Indian roller
,
cuckoo
, common snipe, crow pheasant, jungle nightjar, kite, grey drongo, Malabar trogon, woodpeckeer, large pied wagtail, baya sparrow,
grey jungle fowl
, Indian hill myna, robin bird, jungle babbler and darter are some of the common birds found here.
There are a few rare birds as well which include: sunbird, shrike, fairy blue-bird, grey-headed fishing eagle, blackwinged kite etc.
Birdwatching in Thattekkad Bird Sanctuary - Birding Trips
Thettekkad is a popular bird watching destination. Take a ride over an elephant's back along elephant trainer to have a view of some of the rarest birds here. Jeeps are also available on hire.
Thattekkad Bird Sanctuary Wildlife Travel Circuit
Kochi - Thattekkad - Munnar - Periyar
How to Reach the Thattekkad Bird Sanctuary
Air :
The nearest airport, is 71 kms from Thattekka.
Rail :
The nearest railway station is Aluva, at a distance of 48 km. Kochi.
Road :
The sanctuary is 13 kms North-East of Kothamangalam along the Pooyamkutti road.